Lynton's Longshots Review
£2.99
Value For Money

Profitability

Potenital
Comments Rating
( reviews)
Summary
This service offers larger-priced horses, each way and win bets each week, it's easy to follow and all selections come with a long write-up on how the tipster came to his conclusions. Lynton's Longshots was launched on the Tipsters Empire platform in April 2023 after a successful proofing period.
Pros
Cheap trial offer
Proven over a long period
Trusted platform
Cons
More volatile than other services at Tipsters Empire
Welcome to my Lynton's Longshots Review, let's take a closer look at Tipsters Empire's new horse racing service and see how well it performed in proofing.
Another successful horse racing tipster launched on the Tipsters Empire network, which hosts the likes of Cotswold Racing and JV Bets.
This service offers larger-priced horses, each way and win bets each week, it's easy to follow and all selections come with a long write-up on how the tipster came to his conclusions.
Lynton's Longshots was launched on the Tipsters Empire platform in April 2023 after a successful proofing period.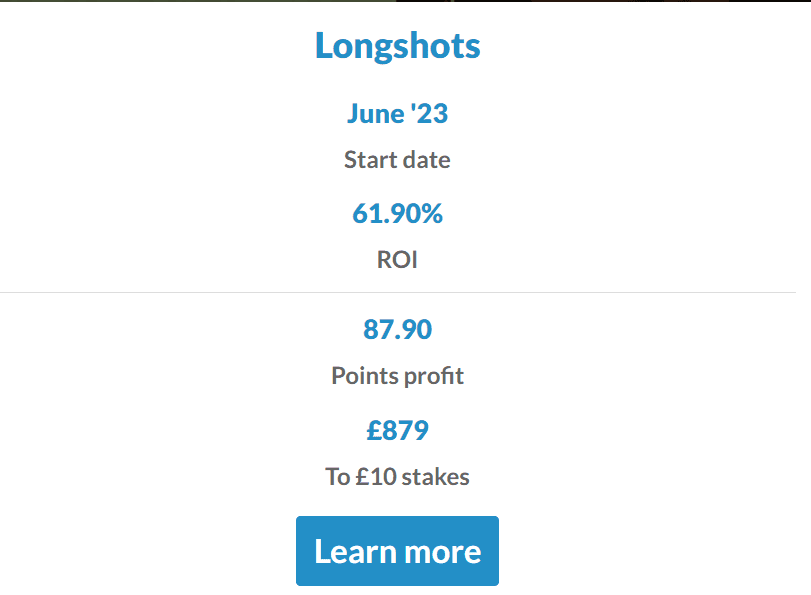 Tipster Name: Lynton's Longshots
Platform: Tipsters Empire via Website/Email
Service Headline: "Example Write-Up from Lynton's Longshots
MILIAT 40/1 WINNER – 29/09/2023
Here's my fancy for tomorrow where we head back to Ireland in an attempt to find another winner. She is related to winners and won a barrier trial at this course earlier in the month, so I hope she will do well. I am also a fan of the Slattery team who have brought me success before, including with their juveniles.
She is trained by Andrew Slattery, a trainer who is only 2-32 (6%) in the last 14 days, but who has had 7 placed efforts in that time, and is having a decent enough season overall. This is one of just two runners for him at Dundalk tomorrow, a track where he sends a large proportion of his horses, and although his juvenile form has tailed off of late, he has had winning newcomers in the past.
The ride is taken by his son, Andrew Slattery, who hasn't ridden a winner in the last 14 days, but who is a very capable jockey. He has ridden 3 placed efforts in that time, including some other close calls, and he goes to Dundalk for just 2 rides tomorrow. He does have success when riding for his father and is no stranger to Dundalk, so I hope he can give her a good spin.
Looking into her breeding, we find that she is a €30,000 yearling who is related to several winners. She is half-sister to Galador (6-8.5f winner inc 2y/o) and Sea My Soul (1m 2y/o) whilst also being closely related to Princess Plumeria (6f AW) and her dam being out of a US 1m3f Listed winner. There is a nice blend of speed and stamina there, including at 2 and on this surface, so conditions should suit the first time out.
Her sire, Kodiac, was useful over this sort of distance and has established himself as a leading sire. He has a stud fee of £40,000 and is a leading source of speed, so it is not a bad thing to be sired by him. He has sired a whopping 125 horses to achieve an OR of 100+ and does well with his 2y/o's, including at this sort of trip, so that bodes well.
Her dam, Silent Confession, was unraced but well-related to winners over middle distances, and she has had some success as a broodmare. She has produced 4 horses to date, two disappointing, and the other two, Princess Plumeria and Galador (as above) winners over 6f. There is some promise in the breeding and this trip shouldn't be an issue, nor should the surface, so I hope she will show promise on debut, having already won a barrier trial here.
As for tomorrow's race, there are a lot of newcomers involved, so it is a bit of a guessing game, and the four with form have already proven they are beatable. Grand Job has shown decent form but proved to be weak in a finish, Gentileschi has experience and is consistent, but consistently finds a few too good so needs more, September Leaves was supported on debut and should progress, so should show more this time, but was disappointing, and Vive Veuve was highly tried last time and is back in calmer waters here, but needs more for win purposes. Of the newcomers, Quadruple is out of Frankel, well-related, and bred to be quick, so could definitely be involved, Osprey is from a top yard and also bred to be quick, but it is perhaps surprising she is over 7f here, Lily Hart is sister to winners but may just need this, Starry Dew is well-related but again may need time and slightly further, Whispersinthewind looks a likely type on breeding so needs considering, Vina Arana is related to winners and won a barrier trial, so clearly has the ability, and Ciste Fionnta is related to winners over this sort of trip, but was a cheap buy and maybe one for another day. The remainder all have some promise in pedigree but will need to be smart to take a hand here. It is an open race with a large number who look to have a good chance, but I hope the initial barrier trial experience will help our pick, and if she can step forward from that, which she won, she should have the ability to get competitive here.
Dundalk doesn't seem to suit any style in particular, and it is a pretty fair course, so shouldn't cause any problems. As for a draw bias, there is a small bias favouring low draws over 7f, but it isn't necessarily significant. That said, our pick being drawn in 9 shouldn't be an issue. "
Service Cost: £2.99 trial for 28 days / other membership details on-site
Where To Join: Lynton's Longshots Official Website
Vital Statistics For Lyndon at the time of writing this Lynton's Longshots review
£889 Cumulative profit
£220 Monthly profit
63.05% Return on investment
23.71% Strike rate
Lyntons Longshots Review – Is It Worth Joining?
I would certainly advise trying any new service from Tipsters Empire as they have a very good record with their services and the trial is just £2.99 for 28 days.
This service has shown strong proofing results and was launched as a new service in April 2023.
You can get a 28-day trial like I said which is a long enough time to try out the quality of tips before you sign up fully so you can paper trade the results for a while.
Offering larger-priced horses means the service can be more volatile but over a long period of time this tipster has proved it is no fluke that they can find a big-priced winner on a regular basis.
Click here to get a 28-day trial for just £2.99
The betting bank was doubled from April to September 2023, That is no mean feat for a horse racing tipster and he could well be featured on our most successful horse tipsters list very soon.
What Betting Bank is needed?
150 points is the recommended start for your betting bank. If you use £5 per point – £750 betting bank, £10 per point – £1,500 betting bank, and so on.
Once your betting bank increases by 75 points you increase your bet by 50%. £5 becomes £7.50, £10 becomes £15 and so on.
Once you are a paying member you will have access to his full staking plan which is explained in detail.
What time are selections sent out?
Generally between 5:30 pm – 7:30 pm each night.
Is payment recurring?
No. Tipsters Empire chose to not set payments to automatically recur. Instead, you will always receive a reminder two days before your subscription ends, and the day that it ends, via your chosen email address.
How can I access selections?
Tipsters Empire sends a text message with the tips attached. From the text message, a link is attached to our log-in area, where you enter your own unique log-in to read the write-up on why each selection has been made.
Lynton's Longshots Review Summary – Should You Join?
Overall yes, it is a solid horse racing tipster from a quality tipping platform and we highly recommend you give this one a try.
Lynton's Longshots has certainly proved worth following in his proofing at Tipsters Empire doubling the betting bank in just under 3 months, we suggest you take the £2.99 28-day trial option and go for it.
Your Lynton's Longshots Reviews…
Have you used the Lynton's Longshots before? Please create your own review for this Tipsters Empire service and leave star ratings based on your findings when being a member of this service. This enables other readers to make an informed decision on joining the tipster in question.