Welcome to my Cotswold Racing Review, lets's take a closer look at Tipsters Empire's new horse racing service which launched in September 2020.
Another successful horse racing tipster launched on the Tipsters Empire network, which hosts the likes of MJ Racing and All Weather Master.
Tipster Name: Cotswold Racing
Platform: Tipsters Empire via Website/Email
Service Headline: "Cotswold Racing came through his initial trial with resounding results and showed that he remains professional at all times, sticking to a staking plan and never switching to erratic stakes. He always spots value in his bets, just like he did in the 50/1 winner given below, and strives to build up long-term profit.
30/07/2020 – 13:45 Goodwood – Junkanoo – 50/1 – 0.5pts ew
One very small bet is worth looking at though in the second race and that is Gary Moores Junkanoo. He has only had a couple of runs in a handicap and beaten both times by Johnston horses that have been well fancied this week at Goodwood. Neither time has Junkanoo shown masses that would set the pulse racing, but he has solid course experience a low weight and Moore has close to a 50% record with his Goodwood 3 year old handicappers with less than 3 handicap runs. At 33s and 50s on the machine, Junkanoo may have been hiding his light under the very shrewd Moore bushel."
Service Cost: £2.99 trial for 28 days / other membership details on site
Where To Join: Cotswold Racing Official Website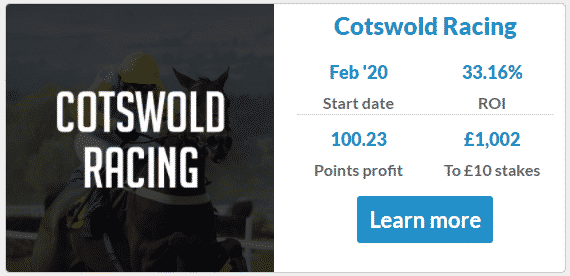 Cotswold Racing Review – Is It Worth Joining?
I would certainly advise trying a new service from Tipsters Empire as they have a very good record with their services.
This service has shown strong proofing results and was launched as a new service in September 2020.
You can get a 28-day trial so take that before you sign up fully so you can paper trade the results for a while.
What Betting Bank is needed?
150 points are the recommended start for your betting bank. If you use £5 per point – £750 betting bank, £10 per point – £1,500 betting bank, and so on.
Once your betting bank increases by 75 points you increase your bet by 50%. £5 becomes £7.50, £10 becomes £15, and so on.
Once you are a paying member you will have access to his full staking plan which is explained in detail.
Below are some FAQ answers you may find useful for this horse racing tipster.
What time are selections sent out?
Generally around 9 pm each evening.
Is payment recurring?
No. Tipsters Empire chose to not set payments to automatically recur. Instead, you will always receive a reminder two days before your subscription ends, and the day that it ends, via your chosen email address.
How can I access selections?
Tipsters Empire sends a text message with the tips attached. From the text message a link is attached to our log-in area, where you enter your own unique log-in to read the write-up on why each selection has been made.
Overall it looks like a solid horse racing tipster from a quality tipping platform.
Your Cotswold Racing Reviews
Have you used the Cotswold Racing tips before? Please create your own review for this Tipsters Empire service and leave star ratings based upon your findings when being a member of this service. This enables other readers to make an informed decision on joining the tipster in question.
Cotswold Racing Review
Value For Money

Profitability

Potenital
Comments Rating
( reviews)
Summary
Cotswold Racing is a new horse racing tipster service on offer from Tipsters Empire, it has shown good potential early doors and is worth trying on the trial offer available.
Pros
Shown great promise in proofing New service Good trial offer