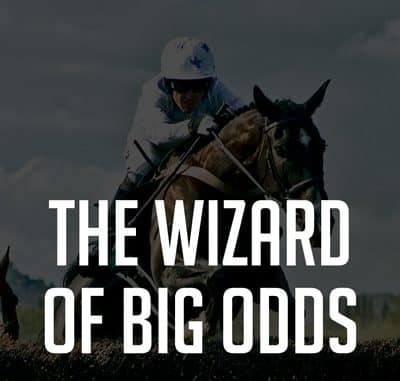 Welcome to my The Wizard Of Big Odds Review this is a horse racing tipster service on the Tipsters Empire tipping platform. This service may have a waiting list due to its sheer popularity.
Smashing it for over a year now this service is run by Tipsters Empire but the selections are advised by a true horse racing expert and that can be seen not only in the write-ups but in the services profitability long term.
Visit The Wizard Of Big Odds Website For More Information And To Join
Service Name: The Wizard Of Big Odds
Headline: " I fell in love with racing since my Dad and Uncle were bookmakers in Lancashire in the '70s. I remember being about 10 and having my ears tuned to the blower system blasting out from the shop below. Ever since then my love of the sport has just grown and grown and I'm as much in love with the sport now as I was as a youngster. "
Service Cost: Free to join waiting list / £40/month and cheaper the longer membership length you choose
Where To Join: Wizard Of Big Odds On Tipsters Empire
Platform: Tipsters Empire
The Wizard Of Big Odds Review – Why This Service Is Not A Fairy Tale
Firstly a tipster does not gain a waiting list for no good reason this is due to the sheer numbers of people flocking to join due to its amazing performance.
Since its inception in July 2018, The Wizard Of Big Odds has delivered over £4300 in profit which is an average of over £300 a month in profit every month and an ROI of 45%.
Ultra-progressive this horse racing tipster has certainly made a name for himself and is well worth getting on the waiting list now.
You can join The Wizard Of Big Odds Here
Selections are sent out at around 9 AM every morning and Tipsters Empire sends a text message with the tips attached. From the text message a link is attached to your login area, where you enter your own unique log in to read the write up on why each selection has been made.
A 150 point betting bank is recommended for this service and it is well worth considering the 12 months membership option to save 27% on membership fees for the year.
I really really like this service, so get yourself on the waiting list fast.
You can join The Wizard Of Big Odds Here
Your Wizard If Big Odds Reviews
Have you tried The Wizard Of Big Odds before or are you a current member of Tipsters Empire's tipping platform in general? Please leave your own review for this tipster and the tipping platform itself for others to read.
Find more of the best horse racing tipsters in the profitable tipster's section of this website.
The Wizard Of Big Odds
Average rating:
0 reviews