Value For Money

Profitability

Potenital
Comments Rating
( reviews)
This is the CD Racing Review page. Here you can find out if this horse racing tipster is worth taking a punt on or not.
CD Racing is a Horse Racing tipping service from the ever-popular Tipsters Empire platform. Since February 2018 CD Racing has amassed a profit of over £2100 which averages out to £84 a month for the last two years, some achievement.
Update July 2021: Service no longer listed on Tipsters Empire
Tipster Name: CD Racing
Platform: Website/Email
Service Headline: "Professional Horse Racing Tipster"
Service Cost: £2.99 trial for 28 days / other membership details on site
Where To Join: CD Racing Official Website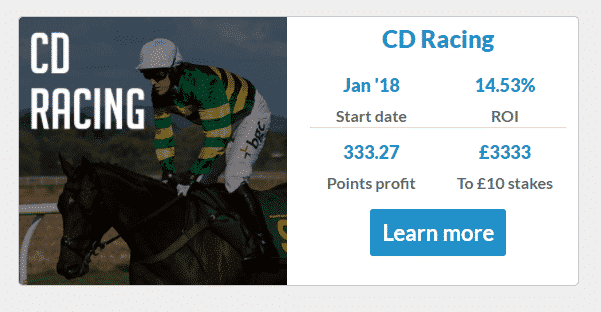 CD Racing Review
CD Racing has impressed me on the Tipsters Empire platform it has delivered a profit of over £3300 since FEB 2018, and there have been numerous big-priced winners. Selections have good reasoning behind them and tips are sent via text message every evening. This tipster certainly has the talent and has improved month after month.
Selections are generally sent out between 6 pm and 8 pm each night. CD Racing sends a text message with the tips attached. From the text message a link is attached to your login area, where you enter your own unique login to read the write-up on why each selection has been made.
You do not have to login in every time to view selections, the selection as mentioned above is text to you, you will only need to log in to read the write-up.
Betting Bank Requirements
100 points are the recommended starting point for your betting bank. If you use £5 per point – £500 betting bank, £10 per point – £1,000 betting bank and so on. Once your betting bank increases by 50 points you increase your bet by 50%. £5 becomes £7.50, £10 becomes £15, and so on. Once you are a paying member you will have access to CD Racings' full staking plan which is then explained in more detail.
A Message From CD Racing
I was introduced to horse racing by my father from a very early age. Attending meetings from before I could walk. I was very fortunate to live so close to Aintree, Haydock, and Chester, some of the very best courses in the country. I have visited over 50 courses in the UK, plus another 20 or so around Europe which shows how much of a horse racing enthusiast I really am.
I have always taken Horse Racing very seriously but have recently developed an even more focused approach.
I have an analytical, rational approach to betting on horse racing and I am dedicated to achieving profits for my members.
You can get a 28 day trial of CD Racing here
CD Racing Review Results
I have kept an eye on CD Racing for a while now and the results have been quite pleasing. With an average profit in the region of £80 per month, it has more than paid for itself. The betting bank has gradually grown as you can see in the profit loss results here.
It's more of a long-term service than a short-term one and has its inevitable dips in form.
Membership fees are not recurring
CD Racing chose to not set payments to automatically recur. Instead, you will always receive a reminder two days before your subscription ends, and the day that it ends, via your chosen email address. You then have the option to continue your membership if you want to otherwise it will end without you having to do anything (a rarity these days).
Be sure to check out The Wizard Of Big Odds Review for another Tipsters Empire horse racing tipster service.
You can get a 28 day trial of other Tipsters Empire tipsters here
Please note that CD Racing is no longer operating on the Tipsters Empire platform as of July 2021.
Your CD Racing Reviews
Have you used the CD Racing tips before? Please create your own review for this Tipsters Empire service and leave star ratings based upon your findings when being a member of this service. This enables other readers to make an informed decision on joining the tipster in question.