Star Tips Review
Value For Money

Profitability

Potenital
Comments Rating
( reviews)
Summary
Star Tips is a profitable football tipster service that launched in September 2021 and at the time of writing has had only 3 losing months from 11 and has amassed a total profit of over £5530 with an ROI of 10.4% at the time of writing this review.
Pros
Cheap trial offer
Good results for a football tipster
Full profit and loss records
Cons
Can it continue to keep up the good results?
Welcome to our Star Tips Review, Star Tips is a profitable football tipster service that launched in September 2021 and at the time of writing has had only 3 losing months from 11 and has amassed a total profit of over £5530 with an ROI of 10.4% at the time of writing this review.
Service Name: Star Tips
About The Tipster: "Welcome to my service!
My tips are based on Value, meaning that I don't necessarily look for sure winners but rather look for odds that are higher than the actual probability of the event.
I don't actively look for evident mistakes from bookmakers because these great odds are corrected by them within minutes (not meaning that if I find one by chance, I don't place the tip) but I rather analyse the markets to identify discrepancies with the statistics and use them at our advantage.
I place a high volume of tips. This is to help those followers that (like myself) are gubbed by most bookies and can't find all of the tips available at the right odds with the few bookies that are still available (or at the exchanges sometimes).
Please tune your bank and your stake based on the number of tips you can place a bet on. There will be losing runs (this is unavoidable); my worst drawback was in the order of 30 times my stake but this was in the experimental stage. Since the system has been better refined, my worst drawback is 15 points. You need to be able to absorb a bad run and keep going on, waiting for the good one that will make you win your money back with interest.
Don't give up after a bad run. Just approach betting only if you have the right mindset: focus on the long term.
My tips are based on BTTS market mainly.
Sometimes I use the Over/Under markets.
Note that the Tipstrr platform only considers a limited set of bookmakers. Please use Oddschecker to see if there are even better odds around. Needless to say: the higher the odds you are able to find are, the more robust and consistent the long term profit will be.
Don't forget to also consult the exchanges like Betfair or Smarkets. Especially out of the weekends, the chances to find high odds there are quite good.
If for one fixture you are unable to find odds comparable (or higher) to the ones I published, don't bet. But keep an eye on that fixture because odds might go up again after a few hours.
In case my tip involves a BTTS market and one of the teams is a clear favourite (odds smaller than 1.20), you can try the double: BTTS + match winner. It's more volatile, but it should pay in the long run. Unfortunately, the platform does not allow me to place this kind of bets.
If you are happy with my service, please share it with your friends. The cost of the trial membership is just a symbolic £1 and all I need is the opportunity to show what I am capable of."
Service Cost: 7-day trial £1 then £29 per month
Where To Join: Star Tips on Tipstrr
Platform: Tipstrr
What Is Star Tips and how does this service work?
Star Tips is a football tipster service on the Tipstrr platform (read our Tipstrr review for more info) to be able to receive the selections you must subscribe to their service, this costs just a pound for the first 7 days as a trial and if you like the service it costs £29 per month.
Once you have created a free tipstrr account here simply log in and find Star Tips service hit the subscribe button and you will now be able to track every selection they add as well as get your bets on them in good time.
Is Star Tips profitable long term?
Already proven profitable over almost 11 months tipping at the time of writing having delivered over £5000 profit and with an ROI of above 10.4% the simple answer is yes.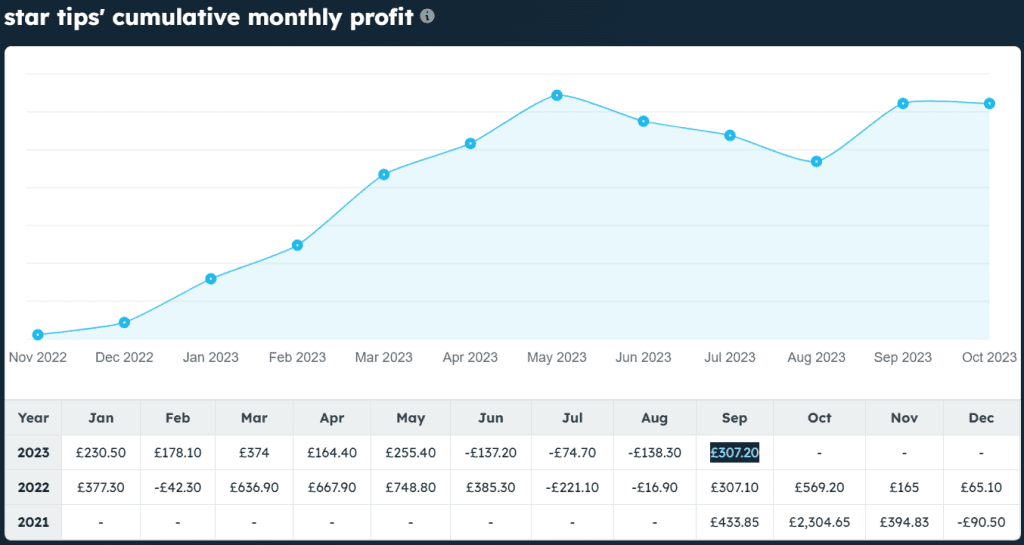 As the chart shows above Star Tips has a steady upward curve for their football tips and is a worthy football tipster to consider adding to your betting portfolio going into the new football season.
March 2023 Update
Since July 2022 when we added this review to the website star tips has continued consistently winning apart from one month…
August 2022 = -£16.90
September 2022 = +£307.10
October 2022 =+£569.20
November 2022 = +£165
December 2022 = £65.10
January 2023 = £230.50
February 2023 = 178.10
As of March 20th when updating on this tipster star tips are already over £150 in profit for March 2023 too.
July 2023 Update
Here are Star Tips results so far for 2023 to £10 stakes…
July 2023 we had another losing month making it 2 from 2 but we are still over £990 up since the start of the year so it's too early to call time on this service yet.
As you can see it's well worth following this tipster who is averaging over £141 per month in profit for 2023 already.
September 2023
September brought in over £307 of profit whilst August dealt us a small loss of £138, so the two average out nicely, and for 2023 we now stand at a total profit of £1159.40.
| | | |
| --- | --- | --- |
| Month | Profit/Loss | Running Profit/Loss 2023 |
| Jan 2023 | £230.50 | £230.50 |
| Feb 2023 | £178.10 | £408.60 |
| Mar 2023 | £374 | £782.60 |
| Apr 2023 | £164.40 | £947 |
| May 2023 | £255.40 | £1202.40 |
| June 2023 | -£137.20 | £1065.20 |
| July 2023 | -£74.70 | £990.50 |
| Aug 2023 | -£138.30 | £852.20 |
| Sep 2023 | £307.20 | £1,159.40 |
| Oct 2023 | £257.10 | £1,416.50 |
| Nov 2023 | £68.90 | £1,485.40 |
see full results on the tipsters page here
November 2023 Update
Another good 2 months of £257.10 added in October and £68.90 in November takes us up to £1485 profit for 2023 so far with one month left, that's an average of £135.03 per month.
Conclusion – Should you give this football tipster a try?
Fully recommend the £1 trial for 7 days option to start with it will give you a good taste of how good the service is at football tipping.
Ultra consistent and easy to follow, try it first you may like it, perhaps paper trade too so you can see how the service performs to your stakes.
There are very few football tipsters out there that are consistently delivering profit on football betting so this is one of the rare ones.
Your Star Tips Reviews
To add your own review simply fill in the form below it helps to keep our tipster rankings up to date and allows users to see other people's opinions as well as our own when they think about joining.