MJ Racing Review
Value For Money

Profitability

Potential
Comments Rating
( reviews)
Summary
MJ Racing is a profitable horse racing tipster from the ever-popular Tipsters Empire network, what's more you can claim a 28 day exclusive trial offer below to test it out for yourself
Pros
Profitable selections
Tipsters Empire Brand
Welcome to the MJ Racing review page, lets's take a closer look at this Tipsters Empire horse racing tipster that is new to the platform but has a lot to offer.
Soon to require a waiting list in early 2021 MJ Racing has exceeded expectations in the long term.
Tipster Name: MJ Racing
Platform: Website/Email
Service Headline: "Professional Horse Racing Tipster"
Service Cost: £2.99 trial for 28 days / other membership details on site
Where To Join: MJ Racing Official Website Here
MJ Racing Review – How It Works And More
MJ is a brand new horse racing tipster to the Tipsters Empire tipping network which has some very good services already like CD Racing for example.
Run by two tipsters named Jay and Mark who are both professional gamblers and who already make a living from gambling on horse racing among other sports.
They averaged an ROI above 30% on their proofing by Tipsters Empire and thus were offered a place on the platform for new members to sign up.
Selections are generally sent out between 9 am – 9:30 am each morning, ensuring the best odds guaranteed will be available for members.
Tipsters Empire sends a text message with the tips attached. From the text message a link is attached to your log-in area on the Tipsters Empire website.
You enter your own unique log-in to read the write-up on why each selection has been made by the tipsters.

Betting Bank Requirements For MJ Racing
150 points is the recommended start for your betting bank. If you use £5 per point – £750 betting bank, £10 per point – £1,500 betting bank, and so on.
Once your betting bank increases by 50 points you increase your bet by 50%. £5 becomes £7.50, £10 becomes £15, and so on.
Once you are a paying member you will have access to his full staking plan which is explained in detail.
The No Subscription policy at Tipsters Empire
Memberships at Tipsters Empire are not on an automatic subscription you will always receive a reminder two days before your subscription ends, and the day that it ends, via your chosen email address.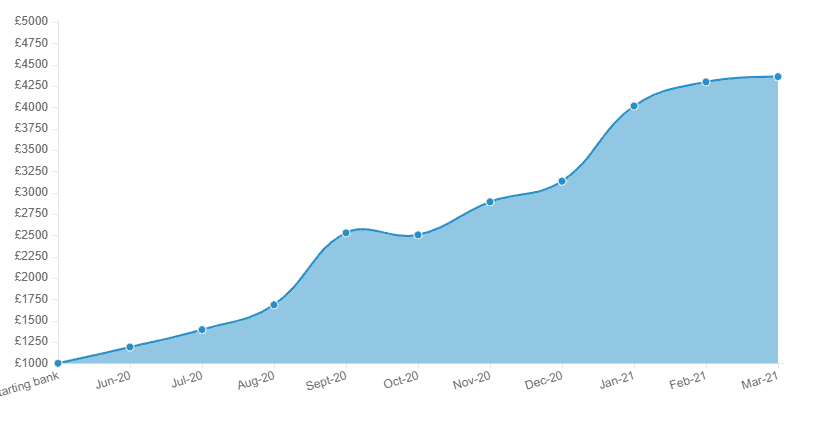 Summary – Is It Worth Joining MJ Racing
Well, it's a resounding yes based on the initial results for the last few months, and with the 28-day trial offer and no subscription being needed you really are in a good place to try this one.
Thanks for reading my review of MJ Racing from Tipsters Empire, feel free to share it on social media with friends and family.
Your MJ Racing Reviews
Have you used the MJ Racing tips before? Please create your own review for this Tipsters Empire service and leave star ratings based on your findings when being a member of this service. This enables other readers to make an informed decision on joining the tipster in question.