Value For Money

Profitability

Potential
Comments Rating
( reviews)
Welcome to my JakBlak Racing Review this is a horse racing tipster service on the Tipsters Empire tipping platform. Focusing on 1 point win bets only this horse racing tipster already has a cracking tipping record and looks set to continue on to bigger and better things.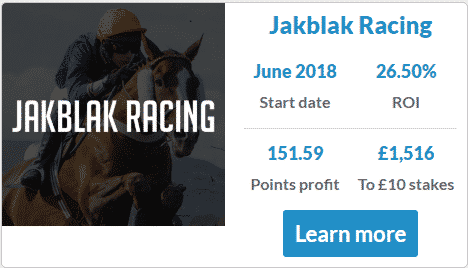 In just a year now this service which is run by Tipsters Empire which is the same platform as The Wizard Of Big odds and Ed Culham tips, has delivered a cumulative profit of over £1500 (an average of £125 a month profit).
Visit The JakBlak Racing Website Here And Claim 28 days Trial For Just £2.99
Service Name: JakBlak Racing
What The Tipster Says: " I have always had an interest in horse racing for as long as I can remember, my earliest memory was of Corbiere winning the national in 1983. Only since around 2003 did I start to look at racing differently in ways, like narrowing the field down by using strong statistical trends for the big festivals. I wanted to broaden my knowledge on betting so started to read plenty on the subject, and the best bit of advice I have ever come across was 'look for value, not winners'. Since following that method, my betting has turned around completely. "
Service Cost: £2.99 for a 28-day trial / £34.99 per month and cheaper the longer membership length you choose.
Where To Join: JakBlak's Page On Tipsters Empire
Platform: Tipsters Empire
JakBlak Racing Review
Focusing solely around 1 point win bets may sound like a crazy betting strategy but JakBlak has proven over the last 12 months he knows exactly what he is doing amassing an average of £125 per month profit.
Selections are sent out in a timely fashion usually around 9 pm the night before the next day's racing.
JakBlak sends a text message with the tips attached. From the text message a link is attached to your login area, where you enter your own unique log-in to read the write-up on why each selection has been made.
150 points is the recommended start for your betting bank. If you use £5 per point – £750 betting bank, £10 per point – £1,500 betting bank and so on.
This is a super easy service to follow especially as there are usually no more than 1 or 2 selections advised per day (not thousands at a time).
The prices of winners have been anything from 9/4 to 10/1 and bigger so Jak does not just simply tip up favorites every day either.
Visit The JakBlak Racing Website Here And Claim 28 days Trial For Just £2.99
Easy to approve a tipster service with a very good track record and a 28-day trial option for just £2.99. You cannot fail with this one during 2019 and beyond.
Visit The JakBlak Racing Website Here And Claim 28 days Trial For Just £2.99
Your JakBlak Racing Reviews
Have you tried The Jakblak Racing tipster service from Tipsters Empire before or are you a current member in general? Please leave your own review for this tipster and the tipping platform itself for others to read.
Find more of the best horse racing tipsters in the profitable tipster's section of this website.