I decided to create a horse racing betting guide after years of experience gambling on all sports but more notably horse racing, from the early age of 7 in fact (I am now 35).
My guide will cover almost everything you will need to know about betting on horse racing in the UK.
So let's get started with the basics and with the types of bets there are available for you to place both on course and in bookmakers or online.
Types Of Horse Racing Bets
There are many different bets available to you, I will go through each of the main ones below and some of the more obscure ones too.
Win Bet (Betting the horse to win)
A win bet is a bet placed on a horse to win the race, if the horse does not come first then your bet is a loser.
Each Way Bet (Betting the horse to win or come placed)
An each-way bet is two bets rolled into one, it is a win bet and a place bet, meaning if the horse wins you win both the win bet and the place bet, and if the horse doesn't win but comes second or third (in some cases 4th see below) you get paid out a fraction of the odds you placed the bet at.
The fraction of the odds on the place bet is dependant on the type of race and or the number of runners in the field.
You need a minimum of five runners to be able to bet each-way on horse racing:
5-7 runners pays out on first and second place at ¼ odds
8 or more runners payout on a first, second, and third place at 1/5 odds In handicap races, the payout is ¼ odds as follows:
12-15 runners payout on a first, second, and third place at ¼ odds 16 or more runners payout on the first four places at ¼ odds
These rules are the basics and sometimes bookmakers offer extra placings in big events such as The Grand National or Cheltenham Festival for example.
Let's say you want to place an each-way bet and there are 7 runners in the race, your selection is 5/1 and you place a £5 each-way bet on it (£10 stake total £5 for the win bet and £5 for the place part).
The selection you picked does not win but comes second, we know now that you will get a quarter of the odds for the place part of your bet.
one-quarter of £5 is £1.25 plus your total stake back (£10) = £11.25, so you would have won £1.25 profit from your each-way bet.
Place Only Betting (Bet without favourite etc)
Sometimes there will be an odds-on favourite in a race which makes it relatively pointless in backing a horse to win.
Bookmakers often offer place only betting or betting without the favourite, the only difference here is if your horse won it wouldn't matter as you are only placing a place part of the bet you would still win if it placed by the way but you don't win more as you would with an each-way (each way is a place and a win bet as mentioned above).
Multiples Betting On Horse Racing
Now that you know the basic bets let's step it up a notch and get into the multiples betting section of the horse racing betting guide.
These bets offer way bigger returns for smaller stakes and therefore are far more popular with punters across the country.
Remember as there are more bets in multiples you will have to multiply your unit stake by the number of bets.
Double- A double is backing a horse in two different races to win, both must win or place if you place an each-way double)
Each Way Double – Same as a double but the stake is doubled as you now only need two horses in two different races to place or win, follow the same rules for a normal each-way bet for each horse to work out possible returns).
Treble – Like a double but as you may have guessed you pick a horse to win three different races and all of them need to win unless you do an each-way treble.
Trixie – This is where you need to pick a horse to win 3 different races, but now you have three doubles and a treble bet all in one (4 bets in total). You would need to get at least two winners on this bet but if you get all three you would have two double bets up and a treble bet too.
Yankee – The Yankee bet continues on the same path but this time there are a lot more bets all in one.
You would need to pick a winner of 4 different horse races, with this bet having 11 bets in total 8 doubles 3 trebles, and a fourfold(accumulator).
On a Yankee, you need at least 2 winners again but if you were to get all 4 horses right you can see where the big pay-out potential comes from.
Lucky 15 – Same as a Yankee but has 4 win bets included meaning if you get one of your 4 selections right you would get a return.
Total number of bets on a Lucky 15 is 15 funnily enough.
Canadian or Super Yankee – These bets have 5 selections in 10 doubles, 10 trebles, 5 four-way accumulators (fourfold), and 1 five-way accumulator (fivefold) or 26 bets in total.
You need two winners on these types of bets unless they offer a return on just one winner (usually says on the betting slip).
Lucky 31 – like the lucky 15 but with an extra selection included meaning there are now 31 bets in total 5 win bets, 10 doubles, 10 trebles, 45 fourfold accumulators, and one fivefold accumulator.
Heinz – This is named after the popular brand because there are 57 bets in this type of horse racing bet 15 doubles, 20 trebles, 15 fourfolds, 6 five-folds, and 1 accumulator.
6 selections are what a Heinz is used for.
Lucky 63 – Same as the Heinz but has 6 win bets included as well, meaning if you only get one winner from 6 you get a return.
Super Heinz – If you pick 7 selections this is the bet for you but now there are a huge amount of combinations 21 doubles, 35 trebles, 35 fourfolds, 21 five-folds, 7 six-folds, and 1 accumulator.
You would need at least two winner for a return on this bet.
Goliath – The daddy of them all and not many people place these bets as it's for 8 selections and there are a total of 247 bets 28 doubles, 56 trebles, 70 fourfolds, 56 five-folds, 28 six-folds, 8 seven-folds, and an accumulator.
You would need at least 2 winners from this bet.
Accumulators (roll-up) – The old term roll-up is what people now call an accumulator this is three or more selections and you have to get all of them right.
They are named in this way as the money you win accumulates after each winner and you can get massive payouts with accas (accumulators).
Rule 4 decutions
On occasion, you may hear or see that a rule 4 deduction applies to the race this is when for example an odds on favourite is withdrawn and there isn't time for the bookmakers to form a new market.
Its usually a certain amount of pence per pound on the bet most times 10p in the pound but it can be higher or lower.
Horse Racing Betting Guide For On Course Bets
There are some bets that you may only find available at an actual course with a satchel bookmaker or at the Tote as they are known.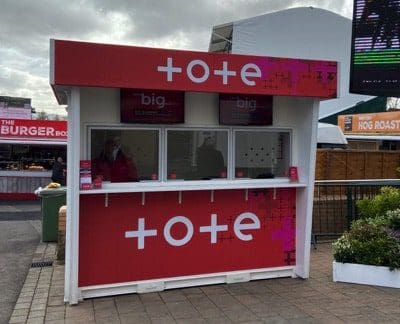 Tote Betting – This is where all bets placed go into a pool, the odds of an individual runner are calculated by dividing the total pool (all wagers on all runners in the race) minus any amount the house (bookie) takes, divided by the total amount wagered on that runner.
People do not realize that placing large bets on the Tote can drastically reduce the odds on that runner not only for themselves but for everyone else, please place large bets at satchel bookies or bookmakers.
The bets on offer from the Tote are:
Scoop 6 – You may have seen this on TV this is where you must correctly predict the winner of 6 different winners, the prize money is huge obviously and usually comes in at over £50,000 and can be a lot higher.
The stake for a scoop 6 bet is just £2, so it can be a good bit of fun if you're lucky.
Tote Jackpot – Much like the scoop 6 but you must correctly predict the winner of 6 different races and the minimum stake is just £1 for this. Once a guy won 1.45 million for just a £2 Tote Jackpot bet.
Tote Placepot – You must correctly predict a horse to at least place in 6 different races, sounds easy but it's not but if you are lucky enough to get them all right you can win a share in or the whole pool dividend (depends on how many people get it right).
There are placepot tips available too from some horse racing tipsters so it's worth having a look at them.
Tote Quadpot – Same as a placepot except you only have to do it in 4 different races to win, payouts are notably lower than the placepot but can still be very good.
Satchel Bookies
Satchel bookies are the bookmakers you see on a horse racing track you can often get better odds at the bookmakers than that of a normal bookie.
Bets offered by these bookmakers are usually win only or each way, they often usually have a minimum stake of £5.
When you place a bet with a satchel bookmaker they will give you a ticket like the one below, keep this ticket until the race result has come in, and don't throw it away as you will need to hand it in for your winnings if any.
If you have never bet with a satchel bookie I recommend it as it's an experience itself, odds can differ from one to the next and they will often shout at funny things to try and attract your money such as "Money without work".
Free Bets
Many bookmakers offer free bets when you join as a new customer or as an incentive to stake a certain amount on an event.
It is possible to utilize these bets in your favour as you can potentially sign up to all the bookmakers offering free bets (make sure you read the terms and conditions before you put money in and bet).
Find out how to make these types of offers work in your favour with matched betting and you can turn a nice profit done right.
The Types Of Odds In Horse Racing Betting
There are a few different styles of odds you may see used when you want to place a bet on the horses and it's wise to know the difference between the two as you could be getting a raw deal.
Fractional Odds
The old standard in the UK fractional odds are usually shown like this 5/1 meaning for every £1 you place you would get £5 in return (plus your original stake £6).
Other examples:
9/2 – for every £2 you stake you get £9 profit in return (£11 in total)
6/4 – for every £4 you stake you get £6 profit in return (£10 in total)
There is also a thing known as odds on this si when the payout is less than your stake in return, this doesn't mean you don't make a profit if your bet wins though please see the example below.
1/2 this would mean for a £2 stake you would only get £1 in return (£3 in total for a £2 bet so £1 profit).
1/7 this would mean for every £7 you put no the horse you would only make £1 profit so for a £7 bet you would only get £1 profit.
Decimal Odds
These odds seem more complicated but follow the same principle though these odds include your stake return unlike fractional odds, decimal odds are often displayed like this 5:00.
5:00 = 4/1
6:00 = 5/1
7:00 = 6/1
A £5 bet on a 4/1 decimal odds horse returns £25 4×5+5 whereas a £5 bet on a 5:00 decimal odds horse returns £20 4×5.
To convert decimal to fractional I just take 1:00 off the odds shown so if it's shown as 5:00 I minus 1:00 it's a 4/1 shot.
Betting Exchanges
There are a few betting exchanges that you may have heard of Betfair, for example, is a betting exchange, the main thing they offer is the ability to lay a horse or back it to lose and not win.
Betting exchanges are one of the places where you may see decimal odds as mentioned above they are different from fractional odds.
You can find out more about this in my What is sports trading post. Or if you want to know how to lay a horse as you are feeling all knowledged up read my What is laying in betting guide.
Exchanges also offer to bet in running, this is where you can bet on the race as it's still happening, not for the faint-hearted so make sure you get to grips with the basics first before trying this.
Horse Racing Betting Guide For Picking A Winner
Now that you know all the basic bets and the odds and where to bet etc, it's time for the hard part of picking an actual horse to win the race.
You may find my post on how to read a racecard useful if you are at a course and you have bought a racecard showing all the runners and riders as well as form it will make it easier to pick out the best form.
There are a lot of things to consider when picking a winner, don't just back the favourite is the first one the other main ones include.
Jockey
Course
Horse Form (how well it has been running)
Trainer
Ground
Odds (100/1 is usually that price for a reason)
Ideally, you want a horse with a jockey that's in good form, the trainer also is in good form and the horse has had some good form too.
Couple this up with the horse is running on its ideal ground and its favourite course you are looking to have a good chance, so weigh this up against its odds if the odds are good value it's a good bet.
I actually recommend using the following tipsters for horse racing that can help you pick many more winners over time.
JPW Racing Tipster – when it comes to festivals like Cheltenham this tipster excels and has some very good results.
Tipster Empire– They have 5 fantastic horse racing tipsters all proven profitable over a long period of time now and cheap to try out.
Cleeve Racing – One of the longest-running and most decorated horse racing tipsters online, Cleeve is a must-join.
It's not just tipsters that can help you though you can use apps like the ones below too to save you money on buying racecards for example.
Don't forget to join my free tips newsletter too, the signup box is on this page and it's free to join.
Useful Apps to consider
I personally use the Racing Post App as the racecards on there are free you can also link in your betting account and bet straight through the app it's very useful when you're on track or on the go.
Also, Timeform is a good one for getting more detailed form information and ratings that are not available elsewhere.
I would avoid any free tip apps that are out there as they just seem to pick random horses but each to their own, I would recommend using some of the best tipsters I have reviewed on this website.
Other Useful Information not covered in this horse racing betting guide
Many people use horse racing tipsters in order to get more winners and we have reviewed a lot of them so be sure to check them out if you want to get more winners overall and more profits. Also, check out my post on the Top 10 horse racing betting strategies for more profitable services to consider.
Thanks for reading this horse racing betting guide I hope you found it useful if you did please share it on your social media so that more people can see it.