Cleeve Racing Review
Value For Money

Profitability

Potential
Comments Rating
( review)
Summary
Cleeve Racing tips have impressed me throughout the years for me and continue to do so into 2023 and beyond. Horse racing tips of a very high standard and great customer service from one of the very best horse racing tipsters on the internet.
Pros
Most profitable long-term horse tipster
Cheap
A must-have service
Long-standing
Full profit loss records
Good trial offer
Cons
Consistency at times but overall profitable long term
Welcome to our Cleeve Racing Review. Cleeve has been around for many years and that only happens for one reason and that is profitability. This is a tipster for Horse Racing both over the jumps and on the flat.
Firstly we awarded Cleeve Racing Tips with the best horse racing tipster award for 2019 as it had been quite epic over the last few years and it was by far one of the most successful horse racing tipsters I had found so far.
Cleeve continued to impress in 2022 too and will certainly be around to stay for a while here at Tipster Reviews based on that 2023/24 should be worth keeping an eye on.
It still maintains a place on the top 10 best horse racing tipsters we have found so far for this year too!
Service Name: Cleeve Racing
Sport: Horse Racing
Platform: Website/Email
Headline: "You're on a winner before the meeting starts with our £10 offer"
Service Cost:£10/month with us (£40/month normally) other options available longer term
Where To Join: Cleeveracing.com
Profitable: Yes
Cleeve Racing Tips – All You Need To Know About This Horse Racing Tipster
Cleeve Racing is a professional horse racing tipster service where every selection is said to go through a set of 12 form filters to achieve a rating on each horse.
The team at Cleeve then selects the best-rated horses along with each horse's optimum race conditions. Betting value is also a major factor and Cleeve Racing tries to find the very best value odds on each selection before they send them out to its members.
Analyzing Flat and National Hunt Jump racing Cleeve analyzes Class 2 and above races only due to them believing the form is robust and delivers better results long term than lower class races.
19 profitable seasons out of 21
10 profitable years out of 11
500+ points profit since May 2022
£5,000+ tax free to £20 stakes
They are now well into their 20th season (and have been going strong for over 9 years now.
With an average week bringing as little as 5-8 selections Cleeve certainly is easy to follow and does not take up all your time.
Membership also includes detailed analysis and top 3 rated for every race meeting, Staking advice, and then where to get the best odds on selections advised.
Whatever type of racing you love flat racing or the jumps Cleeve has it covered. The prices for selections range from 5/1 to 10/1 and above and selections are always sent in a timely manner the night before the next day's horse racing meetings.
So let's see what Cleeve can offer you in full with our exclusive Cleeve Racing review.
Proof In The Pudding?
Let's take a quick glance at a horse racing tipster that has delivered profits season after season both over the jumps and on the flat.
Click here for their full results up to date since 2014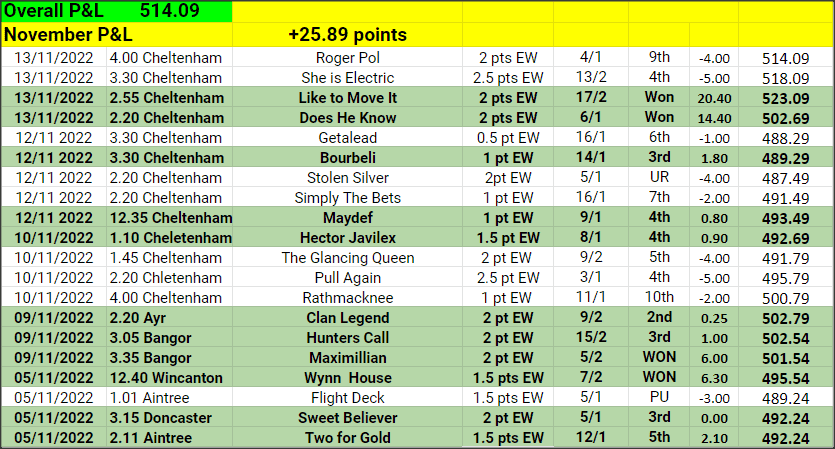 They had a very good Cheltenham in 2021, 2022, and 2023 overall making a good profit on all three occasions which is very impressive.
Especially at Cheltenham and other horse racing festivals that are notoriously difficult to profit from.
2022/23 will be no different again I expect them to be achieving a profitable festival at Cheltenham with the usual 4 days of competitive horse racing.
Cleeve excels at high-class race meetings such as Ascot, Aintree, and Cheltenham as it suits its unique system of finding selections and value.
Every year the tipster has averaged a profit overall from multiple selections across the jumps and flat seasons.
Based upon £20 stakes which are a little lower than many tipsters who work out their profit loss to £100 stakes.
If you join through Tipster Reviews you get your first month for just £10 instead of £40.
Cleeve Racing Membership Dashboard
Let's have a quick look around the Cleeve Racing tips membership area, this is where you can log in to see your tips for the day as well as a few other neat little things.
As you can see it's very easy to cancel your membership should you wish, it's also very easy to get access to selections (see below).
Each tip comes with a write-up and is usually put up the day before, there are member selections and horses to follow as well as ratings.
You can view Cleeve Racings' full up-to-date profit loss on their website.
Overall I am very impressed with this one as it has all the hallmarks of a professionally run tipster service and proof of its profit loss over a long period of time.
You can also get a £10 one-month trial which is very good value if you want to try this one out.
The service boasts an average return of £200 profit from £20 stakes per month, again this is a big positive and where else could you make that kind of money on a regular basis tax-free.
Many tipsters will raise their stakes to £100 per bet in order to achieve similar results whilst stakes like that rule the normal gamblers out as not many have bankrolls to fund such stakes.
So how much does the Cleeve Racing tipster service cost? Well, there are three options available, monthly, bi-annual, and annual.
Cleeve Racing Review – How Much Does It Cost?
The annual membership option is the best value for money at just £329 it averages out to £27.41 per month which still leaves you room for over £170 profit per month on average.
Normally the monthly price is £40 per month if you take that option and as I say if you join through my link you will get 75% off that on your first month.
There are multiple membership options and the longer you join the more value for money you will get from the service.
Arguably the flat service is better than the jumps one but both services have proven to me that they are well worth following. All selections have been to a high standard with good reasoning and write-ups given.
When joining the service you will create a login that will grant access to the selections that are posted on the website every week.
The website works well and the tipster is very easy to get hold of via email and the level of customer service is very good.
14 seasons plus profit is a very big achievement and I can easily say that this is one of the best horse racing tipsters you will be able to try out for a tenner.
Cleeve retains a huge amount of its members due to its sheer professionalism and long-term profitability, there literally is no other horse racing tipster service like it.
Cleeve Racings Notebook
Cleeve Racing also has a very useful tool in the form of "The Notebook", and no I am not talking about that film all the girls love.
This is a section of the website where "Eye Catchers" are recorded with notes on their performance and why they should be kept an eye on for future races. The notebook is free to read for everyone, so take a look at your earliest convenience.
Eye Catchers is updated regularly and the write-ups that come with them are very informative it enables you to add horses to your horse tracker so you can follow their progress or get alerts on when it runs next.
Ante-Post Tips
There is also an Ante-post section for future big races such as the grand national or festivals such as Cheltenham. This is only available to paying members. Many of the ante-post tips have come in at big prices over the years and you will want to get on them asap for maximum value.
Cleeve Bet Tracker
Worth £9.99 but free to Cleeve members. Track every bet you make, in any sport, with any bookmaker, and any type of bet.
Free 10-To-Follow Guide
15 pages of top-class analysis and incisive comments pinpointing 10 horses to follow for profit through the 2022 Jump Season and any other jump season in the future (released every year).
Including unexposed novices and potential young pretenders that could become the new kings and queens of horse racing and an in-depth analysis of last season's campaign.
Well put together and very informative you can then add all of these 10 to your horse tracker (don't know where to get one try AtTheRaces.com as it's free) you will then get updates on the horses whenever they are going to run.
One of the better freebies we have seen and is our pick in this Cleeve Racing review even if you don't want to join the service you can claim this.
This is a regular freebie that is given away by Cleeve Racing every year and has proved to be very successful during its time, what's more, it's totally free even if you don't join as a member.
Click here to download the free 2023 10 to Follow guide
Final Thoughts On Cleeve Racing
Cleeve certainly holds all the aces when it comes to Horse Racing, long-term profitability comes as standard here.
Whilst compiling our Clkeeve Racing review it was obvious that with a clear rationale on how they have come to the conclusion on its selections, they show knowledge and they really do let the results speak for themselves over time.
Not only are their selections profitable but Cleeve has a proven track record for over 14 seasons of horse racing now.
A service that gives you all of the tools you need to succeed and then gives you even more on top of that, exceeding in all areas for me.
As a professional horse racing tipster from start to finish and I cannot recommend Cleeve enough I know a lot of you agree with me.
I have also had tons of user reviews from you the reader added (you can read them further down the page) which has for me backed up what I already knew.
I honestly feel that you cannot go wrong with Cleeve Racing which is by far one of the best tipsters for horse racing that I have ever seen.
Thanks for reading my Cleeve Racing Review feel free to share this with friends and family on social media or via email and WhatsApp.
Make sure that you add your own Cleeve Racing review if you have used it yourself.
June 2023 Update
So it's been a fair while since we initially reviewed cleeve racing, so we thought we should update you on their progress since November 2022…
Below is their profit loss per month since November 2022 and as you can see, they are still performing pretty well in 2023 so far…
| | | |
| --- | --- | --- |
| Month | Profit/Loss | Running Profit/Loss 2023 |
| Jan 2023 | £351.50 | £351.50 |
| Feb 2023 | £635.60 | £987.10 |
| Mar 2023 | £35 | £1022.10 |
| Apr 2023 | £45 | £1067.10 |
| May 2023 | £168 | £1235.10 |
| June 2023 | -£189 | £1046.10 |
| July 2023 | +£270.10 | £1316.20 |
| Aug 2023 | -£480.80 | £835.40 |
| Sep 2023 | +£638.50 | £1473.90 |
| Oct 2023 | -£15 | £1458.90 |
| Nov 2023 | £19.30 | +£1478.20 |
An increase in the bank in 2023 of over 100 points so far is an average of 16.66 points profit per month (£166.66 to £10 stakes).
August 2023 Update
Well, what a thumping loss in August 2023, This has really thrown the cat amongst the pigeons as now the overall profit is looking shaky for Cleeve who is usually pretty consistent, hoping it is a one-off, caution is advised and the review score is adjusted to reflect that.
September 2023 Update
A great month delivering over £638 profit certainly made up for the previous month's loss and some, it certainly puts this service back on track for 2023.
October 2023 Update
A quiet month with a small loss of £15 nothing too bad and nothing too great but you will get months like this with any horse tipster.
November 2023 Update
Another slow month a slight profit added but not enough to even cover the membership fee or the loss from the previous month, hopefully things will tick up after December 2023.
Pretty much still a no-brainer to have this one in your portfolio.
Your Cleeve Racing Reviews
Have you used the Cleeve Racing service recently? What were your thoughts on the service please create your own review below and leave a star rating for this service so other users can make an informed choice on whether to join or not. Get our Free Tips.