Ambrose Value Tips Review
£5.99
Value For Money

Profitability

Potenital
Comments Rating
( reviews)
Summary
Ambrose Value Tips is a profitable tipster for horse racing that has been going for over 3 years now, averaging around £100 per month profit is no mean feat over the course of 3 years. Garry becomes a legendary racing tipster during his 5-month trial period with a 210-point profit with a huge Return on Investment of 60%! when proofing with Mega Tipsters, and he is still there now.
Pros
Long-standing service
Good Average Monthly Profits
Trusted Platform
30-day money-back guarantee
14-Day Trial offer
Cons
Possibly not as good as Hanbury
Welcome to our Ambrose Value Tips Review, this is another horse racing tipster service located on the mega tipsters tipping platform, also the home of Hanbury Racing Tips.
With an average ROI of 15% and an average monthly profit of £100 per month since 2020, this is a horse tipster worth checking out, especially as they offer a £5.99 trial and 30-day money-back guarantee!
Tipster Name: Ambrose Value Tips
Platform: Megatipsters
Service Headline: "Garry has already become a legendary racing tipster during his 5-month trial period with a 210-point profit with a huge Return on Investment of 60%!!! That's amazing tipping!
Garry's used to love a bet and his fortunes changed for the better when he met Richard Hutchinson in the bookies in the 1990s. Richard used to regularly shout home big-priced winners and Garry asked him how he found them. They soon became close friends and after learning Richard's methods Garry has now honed his tipping skills expertly over the last 28 years to tip his own value winners."
ROI: Above 15% on average
Service Cost: £5.99+VAT for a 14-day trial then £44.39(VAT included) a month with other longer-term options coming in cheaper over the long term.
Where To Join: Ambrose's website here
Verdict: Passed And Profitable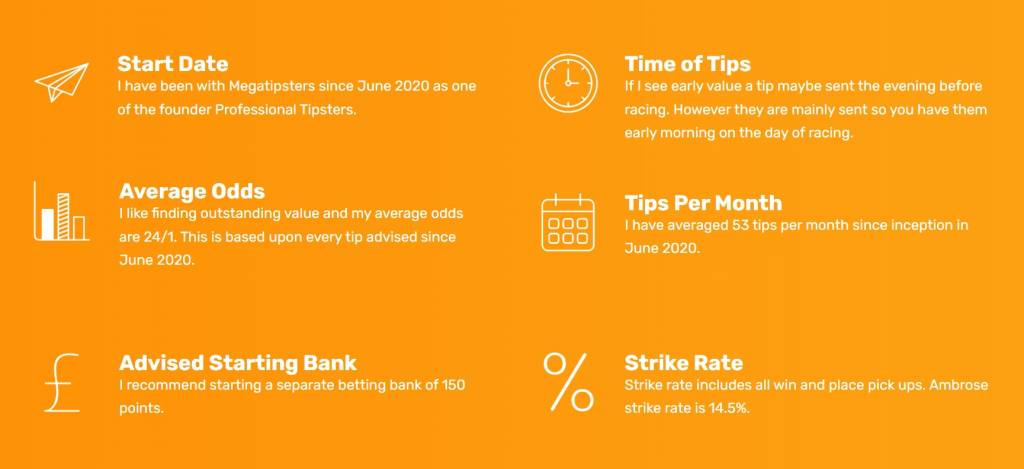 Ambrose Value Tips – Worth Trying Out?
Ambrose Vlaue Tips comes with a 14-day trial offer for just £5.99 and a 30-day money-back guarantee, you can try this tipster with zero risk, so yes it's worth trying out for yourself.
Paper trading selections are always wise (by paper trading I mean you don't bet on them but you record the results), if you like how the service is run and it's proving to be profitable you can take the step to become a full member.
With a tipster that has been around for over 3 years, it has to be a positive sign many tipsters for horse racing do not make it past 2 years.
£100 average a month profit may not sound like a lot but when it's consistently rolling in it's a real pleasing factor of following this tipster.
2023 results so far… To £10 stakes
| | | |
| --- | --- | --- |
| Month | Profit/Loss | Running Profit/Loss 2023 to £10 stakes |
| Jan 2023 | pending data | |
| Feb 2023 | | |
| March 2023 | | |
| April 2023 | | |
| May 2023 | | |
| June 2023 | | |
You can view the full profit and loss results since launch by clicking here it makes for very interesting reading, this tipster is delivering on a regular basis, and over a long period of time, his form has held strong.
Why Choose Ambrose?
Here are some of the main reasons as advised by Ambrose himself…
Selections – I am a serious form student and spend hours trawling through making my selections, I don't do write-ups, but you can be assured that an incredible amount of effort and heartache goes into only putting up horses that I think are valuable.
Big Priced Winners – I specialize in finding big-value winners on a regular basis. So if you love the thrill of cheering on big prices, with potential massive wins every day, then I'm your man!
Consistent Profits – Consistent Profits – Garry has a track record of making consistent profits.
Simple Betting Strategy– Just win or each-way bets placed. It's so simple to do!!
FAQs
Here are some answers to the most questions about Ambrose Value Tips service.
Q: Am I under any contracts?
A: None whatsoever. You can cancel our service at any time.
Q: Am I automatically charged in the future?
A: When joining you will only pay the introductory 14-day trial today. The subscription period you choose after the trial will automatically be charged at the start of the following month. This is so there is no interruption to your service. Please don't worry, you are completely free to cancel at any time, with no penalty. Remember you also have our 30-day back money guarantee! We want you to have a great experience with our trusted service!
Q: Is the 30-day Money back real?
A: Oh yes! This is a no-quibble 30-day money-back guarantee. If, for whatever reason, you are not happy you can get a 30-day refund on your subscription.
Q: How do I access the tips?
A: Via emails sent out or through your member's section on our website.
Q: Why do I need a betting bank?
A: It's really important to discipline yourself to bet in accordance with our tipster's advice and staking points plan. Tipsters naturally go through winning and losing streaks and therefore to get you into long-term profit you need a sufficient starting bank to overcome any initial unforeseen losing streaks.
Q: What does it mean when a tipster says 1 point win?
A: Tipsters refer to a point rather than a sum of money as every person should bet within their means. Some people might be betting at £10 per point, others at £2/point and some might be at £100/point. So if we recommend 1 point at 8/1 and you betting at £10/point, then that's an £80 return, plus your £10 stake back. This is all about what betting bank you are starting off with. Richard recommends a 150-point betting bank so at £5/point your betting bank should be £750; at £10/point it should be £1500. As your bank increases then your amount per point can rise.
Our Verdict On Ambrose Value Tips – Try It On For Size!
This is not the most profitable horse racing tipster you will come across but it is consistent and it continues to deliver, so it is well worth testing it out for yourself risk-free with the trials and money-back guarantees.
Every selection is given a full in-depth write-up every morning along with the selections and staking advice.
We recommend you take the trial offer and get started with Hanbury today, though you will need to stay a few months to get the most value out of his selections.
Your Ambrose Value Tips Review
Have you used the Ambrose Value tips before? Please create your own Ambrose Value Tips review for this Megatipsters service and leave star ratings based on your findings when being a member of this service. This enables other readers to make an informed decision on joining the tipster in question.