Welcome to this Hanbury Racing Tips review, when a horse tipster picks a 150/1 show a lot of eyebrows are raised as well know it's 150-1 for a reason, it probably doesn't stand a chance but not Hanbury.
Not only did he tip a 150-1 but it won and not in any old race but the Irish Grand National, then a few days later he tipped a 66-1 that won rather convincingly too!
The overall 39% ROI and 600 points profit is impressive so far. This has been achieved from almost 900 tips so this is already becoming a mature/reliable service. Unlike other new Tipsters that achieve 30%+ from just 100-150 points profit.
Tipster Name: Hanbury Racing Tips
Platform: Megatipsters
Service Headline: "Richard Hutchinson was the mastermind behind winning the Tote Ten To Follow Jumps competition 2020. He bagged the £10,000 March monthly prize and also the £177113.52 first prize, so in total a whooping £188113.52 for his syndicate!! He also finished 9th in 2009 and had a runner in the Grand National that would have bagged the first prize of £250000!!"
Service Cost: £4.99 for a 14-day trial then £36.99 a month with other longer term options coming in cheaper over the long term.
Where To Join: Hanbury's website here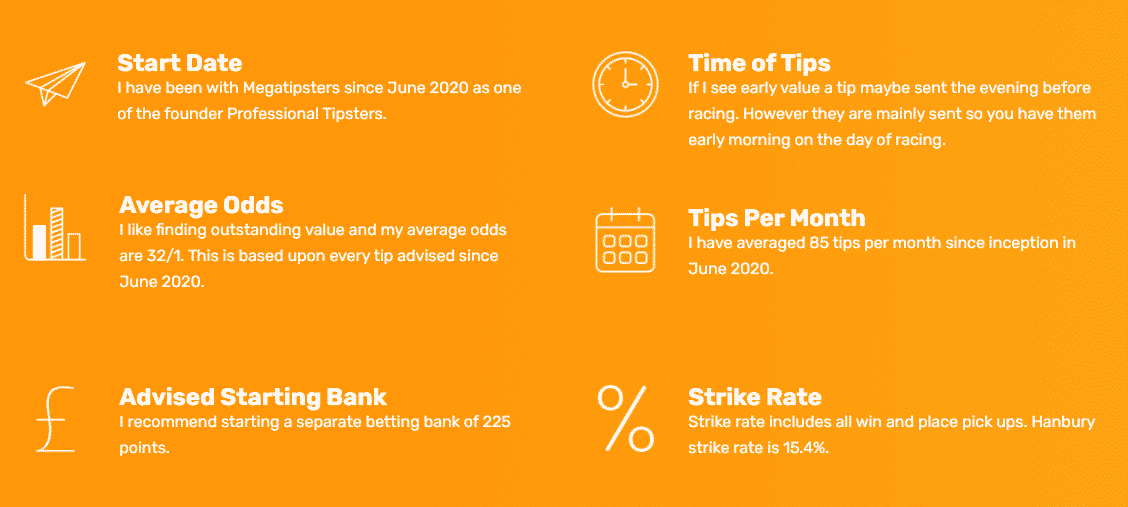 Hanbury Racing Tips – Worth Joining?
Hanbury Racing Tips comes with a 14-day trial offer at just £4.99 its well worth trying it out and even if you decide to stay on after the trial there is still a full 30-day money-back guarantee, so your money is safe.
Paper trading selections are always wise (by paper trading I mean you don't bet on them but you record the results), if you like how the service is run and it's proving to be profitable you can take the step to become a full member.
Certainly, lots of fun with this tipster, and there is not going to be odds on favourites tipped up every day like many other services out there.
Like I said already he tipped up the winner of the Irish Grand National at 150/1 not only that but he provided a write-up as to why he chose this horse and here is what he said.
'The other I like at a massive price is Freewheelin Dylan who can be backed at 150/1. He won the Irish Midlands National last summer off a mark of 135 and he gets in here off just 137. He performed below par after falling over hurdles and was given a break over the winter as he dislikes soft ground. He comes here after 173 days off and that is a real positive for Freewheelin Dylan as he goes really well when fresh. Connections have laid him out for this after his Midlands National win last year and off bottom weight on his favoured quick ground this front runner is no forlorn hope. '
Shortly after this winner was advised at huge odds, he tipped up another selection at a huge price of 66/1 in a relatively small field, at Sedgfeild this time in the form of Scorpo, which also won!
So if you are looking for a service that can offer huge returns Hanbury is certainly worth giving a show in my opinion especially with the money back guarantee and the trial offer, it has all the hallmarks of a good tipster service.
The only negatives I can offer is that it can take a long time for a winner to come and this is to be expected when backing horses at 33/1 up to 150/1.

Why Choose Hanbury?
Race Write-Ups – All Hanbury's tips come with a race analysis and reasoning behind selections. There is no blind fail required!
Big Priced Winners – Hanbury specialises in finding big-value winners on a regular basis. So if you love the thrill of cheering on big prices, with potential massive wins every day, then he's your man!
Consistent Profits – Richard has a track record of making consistent profits.
Simple Betting Strategy– Just win or each-way bets placed. It's so simple to do!!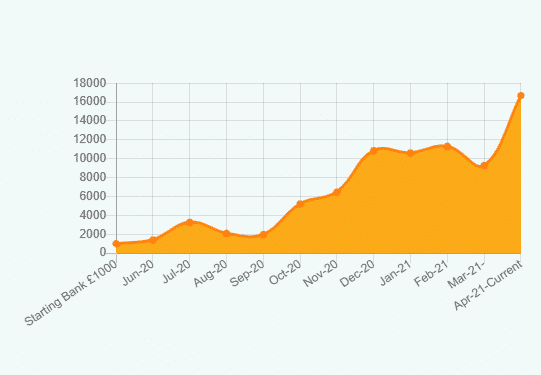 FAQ
Am I under any contracts?
None whatsoever. You can cancel our service at anytime.
Am I automatically charged in the future?
When joining you will only pay the introductory 14-day trial today. The subscription period you choose after the trial will automatically be charged at the start of the following month.
This is so there is no interruption to your service. Please don't worry, you are completely free to cancel at any time, with no penalty. Remember you also have Megatipsters' 30 days money-back guarantee!
How do I access my Tips?
Via emails sent out or through your members section on their website.
Why do I need a designated betting bank?

It's really important to discipline yourself to bet in accordance with our tipster's advice and staking points plan.
Tipsters naturally go through winning and losing streaks and therefore to get you into long-term profit you need a sufficient starting bank to overcome any initial unforeseen losing streaks.
What does it mean when a tipsters say back a horse 1 point win?
Tipsters refer to a point rather than a sum of money as every person should bet within their means. Some people might be betting at £10 per point, others at £2/point and some might be at £100/point.
So if they recommend 1 point at 8/1 and your betting at £10/point, then that's an £80 return, plus your £10 stake back. This is all about what betting bank you are starting off with. Richard recommends a 150 point betting bank so at £5/point your betting bank should be £750; at £10/point, it should be £1500.
As your bank increases then your amount per point can rise.
Used Hanbury Racing before? then please add your own Hanbury Racing Tips review below for other users of the site to read and make the informed choice on this tipster.
Your Hanbury Racing Tips Review
Have you used the Hanbury Racing tips before? Please create your own review for this Megatipsters service and leave star ratings based upon your findings when being a member of this service. This enables other readers to make an informed decision on joining the tipster in question.
Hanbury Racing Tips Review
Value For Money

Profitability

Potenital
Comments Rating
( reviews)
Summary
Hanbury tipped a 150-1 winner of the Irish National and then less than a week later tipped up a 66-1 winner, this cemented its deservedness of being added to tipster reviews and this is certainly one to try out for 14 days.
Pros
30-day money-back guarantee
Huge priced winners
14-day trial offer
Cons
Costly to follow but has potential
If you don't like backing high priced odds horses this is not for you