So what is a lucky 31 bet?
When it comes to gambling it can sometimes be an absolute minefield when your trying to find the right bet for your selections, I touched on what a lucky 31 bet is in my horse racing betting guide but allow me to go into more detail.
In this series of guides I aim to inform you on a number of different betting options from lucky 15 all the way up to the Goliath.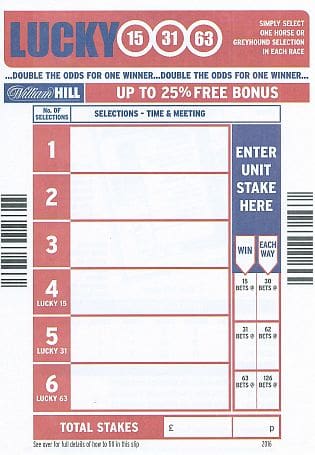 How Many Bets Are In A Lucky 31?
As the name suggests there are 31 bets in a lucky 31 and they incorporate the following bets :
1 five-fold accumulator
5 four-folds
10 trebles
10 doubles
5 singles
You can only place a lucky 31 on a bet with 5 selections, the five fold accumulator is basically an acca and you will need all 5 selections correct for this (otherwise known as a roll up).
Fourfolds are similar to the five fold but this time you have 5 of them and you only need 4 right to land one but land all 5 selections and you land 5 four folds.
Trebles you will need at least 3 right to land one treble and the more selections you land after those 3 will land you a lot more trebles with a total of 15 trebles landed if you get all 5 of your selections right.
Doubles mean if you get two right you win and for every other winner you get with those two you will land more and more doubles, get all 5 right and you will win on 15 doubles.
Singles are straight wins basically and again for each one that wins you will be in for a lot more money, its easy to see why these two bet types are popular with horse racing (lucky 15 and lucky 31).
How Much Does A Lucky 31 Bet Cost?
You have to be careful with your budget when placing a lucky 31, on the bet slip there will be a box that says unit stake, you must times this by 31 for example.
31 bets at 50p per bet = £15.50 staked. If you choose to do each way on this bet type, the bets are doubled to 62 bets so the stake would also double to £31.
Lucky 31 Bonus
Many bookmakers offer a bonus when you place a Lucky 31 and that usually means if you only get one winner they will double or triple the odds on that winner.
What Sports To Place A Lucky 31 On
Like I said the most popular sport to use Lucky 15,31 and 63 bet types on is horse racing but you can also mix and match sports that you add to a lucky 31.
Greyhounds, Tennis, Football and Horse Racing are all sports that can be added to a lucky 31 bet and you could have for example 2 horses 1 dog and two tennis matches included in your 5 picks.
Conclusion
Lucky 31's are a very good full cover bet for many sports they offer high pay outs, a single winner bonus and the potential to win a lot of money for very small stakes if the odds are right and your lucky enough.
Horse Racing is the perfect sport to use this bet on, but as there are more bets involved its easy to see why more prefer the Lucky 15 (only 15 bets) for 4 selections instead of 5.
I hope you found this guide about the lucky 31 bet useful don't be afraid to share it with your friends on social media, it also helps me out too.