Hello and welcome to this SVB Tips Review, SVB is a multi-sports tipster currently running on the Tipstrr tipster platform.
SVB offers selections for Football, Horse Racing, and Tennis. The most important thing to notice here is that SVB is incredibly profitable in all areas.

Headline: " I am a multi-sport tipster who started doing this professionally in the last 5 years. The majority of the tips will be added in the morning, after 9 am UK time.
I choose my selections by studying the odds, I was always good with numbers and numbers don't lie. The odds will vary as well but I will try to keep a balance so I can maintain a reasonable strike rate. My stake plan is very simple, level stakes will be used for every tip, 5 units or 10 pounds, it's just a personal option so feel free to use whatever you are comfortable with, you will obtain reasonable profits each month even by using only 5 pounds for every tip.
The bookmakers I am using are the ones that the site is using but if you can, you could try and check my tips with other bookmakers I cant use here (William Hill, Betfred, Paddypower, etc.) as you may find the odds there or sometimes even beat the price I posted because the prices I am posting are usually available with more than one bookmaker.
I am aware though that sometimes it's hard to get the posted prices so because of that the service will always be kept to the minimum price tier. I can assure you that my service will make you profit because I already said, numbers don't lie. Thanks and good luck. "
Service Cost: 7-day trial for £1 then £19.99 per month or £159 a year (other options available)
Bank Advised: £1000 maximum (£10 per point) £150 minimum (£1 a point)
Platform: Website Login/Email
Where to join: Tipstrr.com/SVB-Tips
Starting Bank: 150 advised but 100 is possible if you reduce the stakes advised from £10 to £1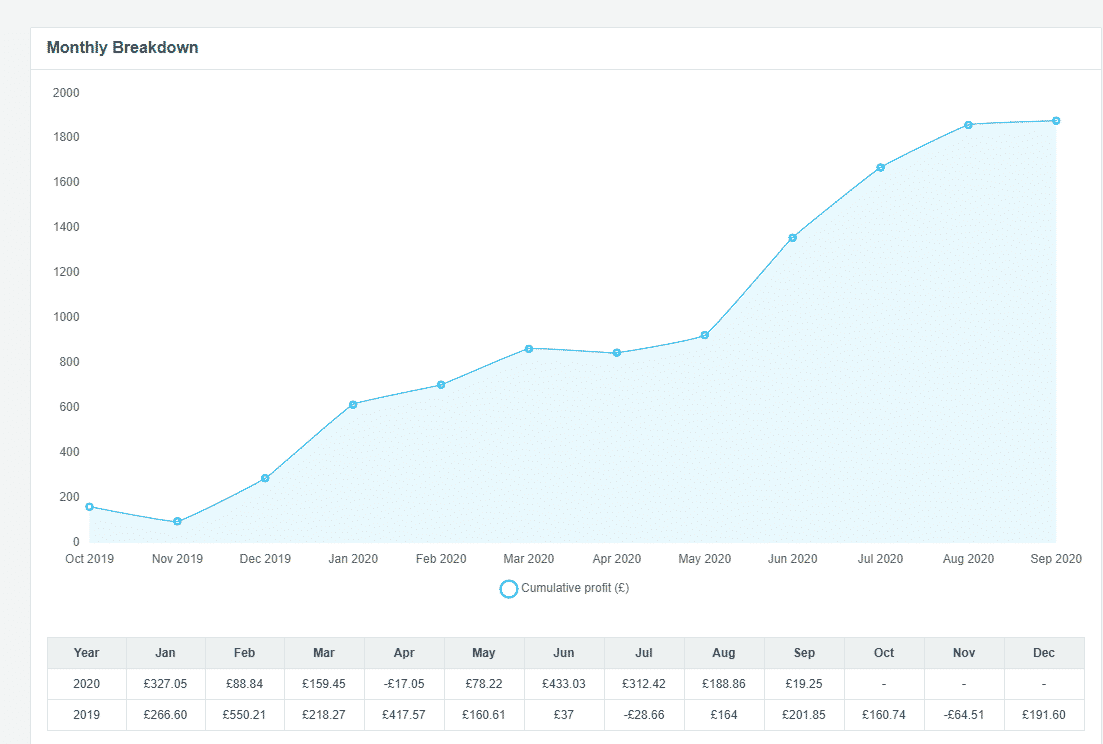 SVB Tips Review
SVB looks to be a revelation when it comes to tipsters offering selections for more than one sport, delivering a profit overall in 21 months of £6942 which averages out to £346 profit per month.
There are usually around 45-60 selections per week which may be too many for some but if you have the bankroll you simply can't go wrong with SVB at present.
The selections are sent out before 11am every morning and there is usually 5-6 bets each day, the stake is usually recommended at £5 per selection.
With just three losing months from 21 and I must point out that those three losing months totaled a loss of just £110.22 compared to nearly every other month being over £100 in profit that simply is nothing.
I live trialed SVB with my newsletter subscribers in September 2020 Here are the results
Selections: 68
Winners: 17
Losers: 51
Void:
Staked £340
Returned: £384.85
Profit/Loss: +£44.85
The service is well run, profitable and has huge potential, fun and easy to follow and ULTRA consistent.
30 days for a pound is fantastic value from SVB, Only 3 losing months in nearly 2 years of winning ones if incredible.
Your SVB Tips Reviews
Have you used the SVB Tips service recently? What where your thoughts on the service please create your own review below and leave a star rating for this service so other users can make an informed choice on whether to join or not. Get our Free Tips.

SVB Tips Review
Summary
SVB Tips has been sensational when it comes to a multi-sports tipster he smashes it at both football and horse racing, get on board now!
Value For Money

Profitability

Potential
Pros
Brilliant at football and horse racing
Cheap
Highly profitable
Comments Rating
( reviews)