Royal Ascot: A History of Tipsters, set amidst royalty and tranquility, Ascot has enchanted onlookers for centuries but make no mistake the racing is serious business. You can always tell from the spectators' faces who have struck gold and who didn't listen to the tipster's advice. A horse-drawn procession from Windsor Castle and the occasional glance from her majesty only serve as temporary distractions from the prospect of winning.
The difference between winning and losing can be measured in noses or furlongs and over the years this famous racecourse has seen an impressive combination of the two.

Such is the magic that surrounds the course that after 98 years of existence, the British parliament decided to protect and maintain Ascot Racecourse as a national treasure. Thus a world of tips, trips, sprints, and euphoria has been maintained forever.
A brief history of tipsters
Whilst the methods have changed over time, tipping horses at Ascot has existed as long as betting itself. The idea of tipsters actually arose from something far more sinister as groups would often use a variety of aggressive techniques to corrupt race results.
For instance, in 1812 David Dawson, known as the "nobbler king", was caught attempting to poison various horses. Fortunately given Ascot's prestige, the racecourse avoided most of these activities.
However it was certainly frequented by tipsters in the 20th century as Ras Prince Monolulu, the famous tipster who made his name correctly predicting 1920 Derby winner Spion Kop at 100-6, was often observed shouting his famous phrase "I gotta horse".
Whether their methods included watching lots of races or talking to owners or a combination of multiple tricks is difficult to say, but one modern tipster has developed his own database of horses to help him tip the right runner.
Andy Holding is without doubt one of the most successful tipsters ever and "the pundit of the pundits" certainly has an eye and a knack for tipping a Royal Ascot winner. In fact, Andy, a 30-year veteran in the world of horse racing, has developed his own unique way of predicting race outcomes by calculating horses' top speeds.
This he claims is the starting point for all of his predictions, but then obviously, one must consider other factors like the surface, the condition of the horse for that race, and of course how the horse typically gets going and its sprint capacity.
All that said, it is not simply passionate individuals that have partaken in the activity of tipping horses. The modern digital era is home to thousands of online tipster pages and independent reviews rate them on how successful they are at tipping value. The Wizard of Big Odds is an example of how some of these are so successful that they even have a waiting list.
Winners
Over the years, this famous royal affair has left many a jockey and punter leaving the stands beaming with delight. In 1996, Frankie Dettori entered his 7th race having won all of his previous six.
The odds on winning all of the Royal Ascot races prior to the event was 25,000-1 so bookmakers watched on desperately hoping that Dettori would not be leading the pack into the final furlong. Of course the Italian jockey went on to make history and one plucky bettor walked away with £550,000.
In the 2020 event, onlookers were again stunned as Nando Parrado became Ascot's biggest-priced winner at 150-1. Interestingly, Nando Parrado wasn't fancied much by the bookmakers despite his trainer Clive Cox, a man with a great deal of experience in horse racing, claiming "the price was a shock. He is a proper horse and we loved him from the start".
But it's not the odds that were the most staggering part of Brown Jack's racing career; it's the fact that he managed to win the Queen Alexandra Stakes race six years in a row.
What is even more impressive is that Brown Jack originally started as a hurdler and despite changing to flats mid-season, Brown Jack still destroyed the field. It took until the early 2010s that victories were worth mentioning in the same breath. In 2011, Frankel was awarded the highest-ever rating of 147 after leaving the field for dead in one of the fastest-ever sprints in the final furlong.
A year later, the script was set for Black Caviar to be just like all the other internationally celebrated horses with a reputation set to be ruined throughout Ascot's final furlongs.
However, Black Caviar had established such a commanding lead in the Diamond Jubilee Stakes that jockey Luke Nolen started easing her down early. In 2013, four-year-old filly Estimate was boasting the Queen's colours, but as it was her first time in Grade 1 Company, few expected victory. Thankfully for her majesty, jockey Ryan Moore perfectly timed a late charge to put the Gold Cup in the hands of the Royal Family for the very first time.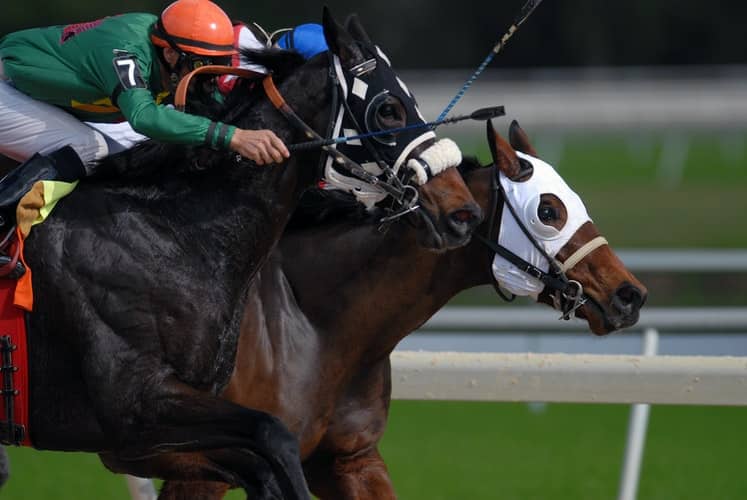 Losers
As mentioned, many a horse has arrived at Ascot with an impeccable reputation only to be discarded into the pages of history. For instance, the 1985 Prince of Wales Stakes.
Here, a great race was billed as a straight fight between Pebbles, an absolute heroine, and St Leger victor Commanche Run. Costly Lesson and Bob Back were simply there just to make up the numbers. Sure enough Bob Back quickly found himself at the back and stayed there for the majority of the race until a space appeared on the home straight between Costly Lesson and Pebbles allowing Bob Back to charge to victory.
To put this into context, this was the only race that Pebbles failed to win in 1985; a season that saw the filly crowned European champion.
Sometimes opportunities also present themselves to runners without Pebbles' reputation so when they fail to capitalise it is even more heart-breaking.
The 2018 Queen Anne Stakes race strangely didn't feature many of the fancied runners for one reason or another and Benbatl found himself favourite at 11-4.
This should have been more than enough motivation for the 4 year old but instead he finished 10th – a huge opportunity missed. The race seemed like a replay of the 1997 race where favourite Ya Malak (8-1) finished 10th and again the winner Don't Worry Me, who wasn't fancied at 33-1, won by a nose. However, this victory hurt the other runners far more upon reflection as Don't Worry Me only won once after this race and quickly returned to his previous uncompetitive form.