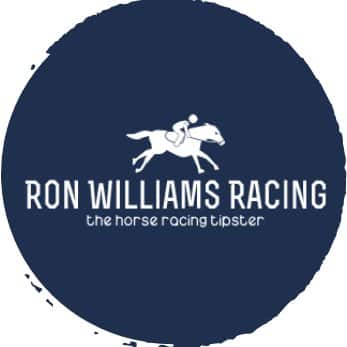 This is the Ron Williams Racing Review
Ron Williams Racing tipster service has very good reviews across the board and has delivered good ROI and profits over the long term for many of its members. A solid tipster service that delivers quality selections week in week out.
You can Claim your exclusive £1 trial here (2 weeks for a quid)  Here Today
Tipster Name: Ron William Racing
Platform: Website/Email
Service Headline: "With big winners, consistent profits and impressive return-on-investment Ron has earned his reputation as one of the UK's leading horse racing experts."
Service Cost:  £1 for 2 weeks trial/ £37  a month
Profitable: Yes
Tipping style: Normal
ROI: Consistently at about 20%
Where To Join: www.ronwilliamsracing.com/
Ron Williams Racing Review
Not only is Ron's service top class delivering good returns on investment for its many many members but Ron is dead easy to get hold of if you need help or just want a chat.
Quality tips are given every week and the staking plan is dead simple to follow added to this the service has been ultra consistent over the years and looks set to be one of the best horse racing tipsters you will find on the internet.
Ron Williams sends out his selections each evening before following day's Horse racing and his tips are advised at 1pt to win or 1pt E/W (2pts staked) bets at best odds guaranteed bookies.
The average amount of selections is 2 or 3 per day so it's not a hard service to follow and takes just minutes per day of your time. The odds of winners have been as high as 33/1 in the past and there have been plenty of good priced winners on a regular basis.
The £1 trial for 2 weeks is brilliant and really gives you long enough to see just how good he is at what he does.  Below is a month by month breakdown of Ron's progress with his selections since July 2017. Only 4 losing months from 20 is sensational.
Ron Williams Review – Monthly Profit/Loss Breakdown:
March 2019: +£665
February 2019: +£125
January 2019: +£720
December 2018: +£349
November 2018:  -£284
October 2018: +£558
September 2018: +£388
August 2018: +£681
July 2018: +£20
June 2018: -£276
May 2018: -£190
April 2018: +£1,261
March 2018: +£324
February 2018: -£110
January 2018: +£2
December 2017: +£110
November 2017: +£105
October 2017: +£269
September 2017: +£397
August 2017: +£624
July 2017: +£281
A quick look at his twitter didn't fail to offer promise either with numerous members or followers tweeting things such as "BOOOOOM Ron you have done it again mate thanks so much" and he certainly has a strong following which points to good profits too.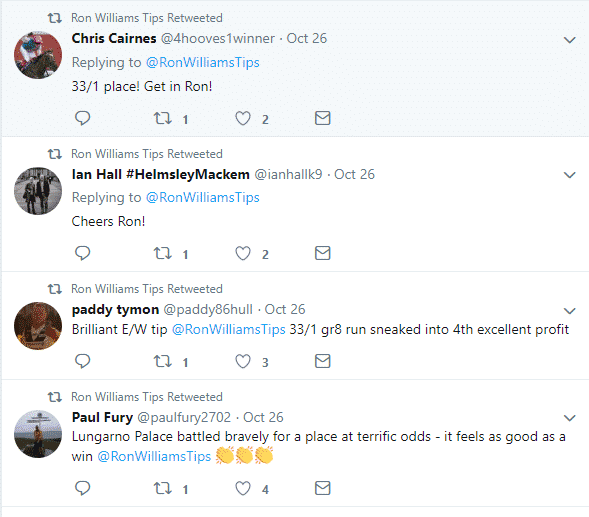 In fact, no matter where you look you will see hundreds upon hundreds of good reviews and feedback on this horse racing tipster the £2 trial is an ideal offer to take advantage of if you want to see just how good Ron Williams is at horse tipping.
Exclusive Trial Offer: Claim your exclusive £1 trial here (2 weeks for a quid)
Ron Williams service has shown great ability to overcome long losing runs which can be expected in horse racing and still turn a profit long term. The cheap £1 trial option is a great way to try this tipster on for size.
I have the utmost confidence that you will be very happy with your £1 trial and that you may very well decide to stay on as a full member thereafter. This is one of the better horse racing tipsters around at present when it comes to long term profitability.
The Ron Williams service is backed up by a money back guarantee via Clickbank who takes care of payments for him. That is a 60-day money back guarantee as standard so you're pretty safe here to try this one for a quid.
Exclusive Trial Offer: Claim your exclusive £1 trial here (2 weeks for a quid)
Ron Williams Racing Review – Your Thoughts?
Have you used the Ron Williams Racing tips before? Please create your own review and leave star ratings based upon your findings when being a member of this service. This enables other readers to make an informed decision on joining the tipster in question.
Ron Williams Racing
Average rating:
7 reviews
Mar 15, 2019
Cheltenham Festival... BOOM
Profit Score Out Of 10?:
10
Member For How Long?:
1 week
Ron has smashed Cheltenham to bits this year for me BOOM after BOOM with some great priced winners. Ron Williams is the man.
Feb 25, 2019
Never have I seen a better horse racing tipster
Profit Score Out Of 10?:
10
Member For How Long?:
18 months ish
Ron Williams is a revelation when it comes to Horse Racing tips he is quite simply the best. Monthly profits on a regular basis I think I have only had 3 losing months from the 18 odd I have been a member.

Delivers on all his promises and is a safe bet if you're looking for the best horse racing tipster on the internet.

Get it joined and try it out is all I can say to you all
Sep 19, 2018
Superb
Recommend?:
Highly recommend
Profit Score Out Of 10?:
10
Member For How Long?:
2 months
Genuinely surprised by how good it is! Incredibly consistent!!!
Aug 29, 2018
Profit Score Out Of 10?:
10
Member For How Long?:
10 motnhs
Absolutely brilliant and can't fault them
Aug 29, 2018
Best Tipster I've Ever Tried
Recommend?:
Take his Trial
Profit Score Out Of 10?:
10
Member For How Long?:
2 Months
Lots of winners and profit! Very consistent and can't see my self ever leaving his service!
May 16, 2018
One of the few that deliver!
Profit Score Out Of 10?:
9
Member For How Long?:
6 months
I joined on the 2 week trial months ago and since then I have been in awe at how someone can actually profit long term. Quality selections from Ron all the time and a true professional in his field.
May 16, 2018
Boom!
Profit Score Out Of 10?:
8
Member For How Long?:
3 weeks
Joined for a quid on the 2 week trial thingy and did well enough to stay on and then boom! win after win I am chuffed thanks for the heads up here.