Blueblood Racing Tipster Review
Value For Money

Profitability

Potenital
Comments Rating
( reviews)
Summary
Blueblood Racing Tipster is a professional horse racing service offered on the Tipsters Empire tipping platform. There are some high-quality services there and this one is no different.
Pros
28-day trial offer
Good horse racing services
Good write-ups
High potential
Cons
no longer tips for this platform
Welcome to my Blueblood Racing review, this is another proofed and approved tipster service from Tipsters Empire's growing network of successful horse racing tipsters.
Blueblood makes a portfolio of 5 successful horse racing tipsters now and many of these services offer a high ROI and a consistent profit over time.
Tipster Name: Blueblood Racing Tipster
Platform: Website/Email
Service Headline: "Professional Horse Racing Tipster"
Service Cost: £2.99 trial for 28 days / other membership details on site
Where To Join: Blueblood Racing website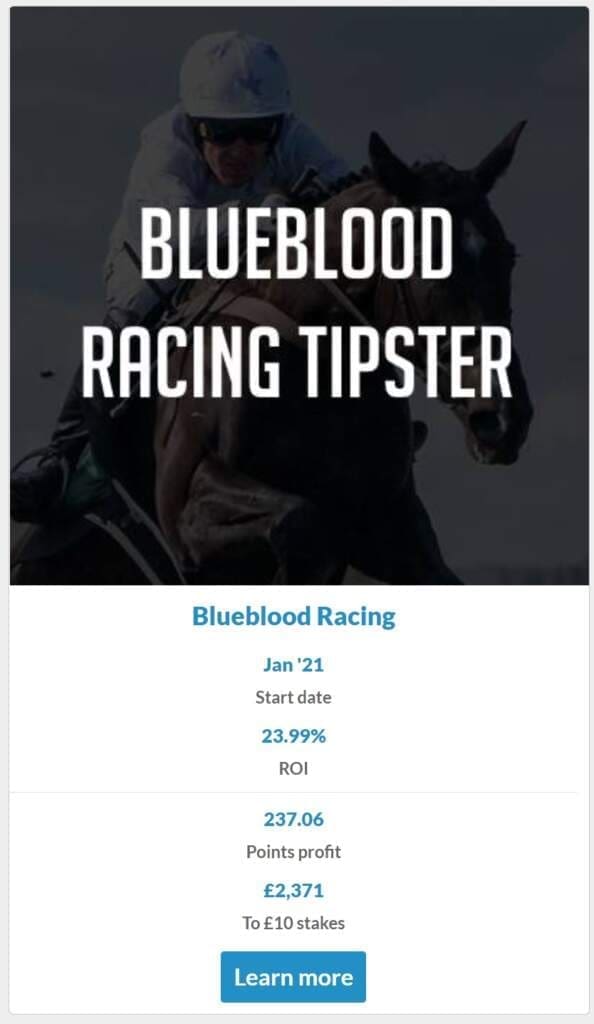 Blueblood Racing Review – How Does It Work And How Profitable Can It Be
Tipsters Empire is the place to be when it comes to profitable horse racing tipsters these days now with 8 high-quality horse racing tipsters on their books, Blueblood Racing is another feather in their cap.
Offering an ROI above 20% and an average monthly profit of £131 (to £10 stakes) this is a service to take seriously, the strike rate is also currently around 38%.
Every selection comes with a high-quality in depth write up from the tipster, there are not hundreds of tips every day either so its easy to follow and get your bets on in good time.
Selections are sent 6 pm – 6:30 pm (Monday – Thursday), 5:45 pm – 6:30 pm (Friday and Sunday), and the night before racing. On a Festival tips can be sent as early as 1 pm the day before as the Bookies price the races up nice and early.
Selections are sent via Text Message or email, you can log into your member's area on the Tipsters Empire website also but you don't have to do so.
Betting Bank Requirements
150 points are the recommended starting point for your betting bank. If you use £5 per point – £750 betting bank, £10 per point – £1,500 betting bank, and so on.
Once your betting bank increases by 50 points you increase your bet by 50%. £5 becomes £7.50, £10 becomes £15, and so on.
Once you are a paying member you will have access to Blueblood's full staking plan which is explained in detail.
A message from Blueblood Racing Tipster
I was introduced to the world of racing at a tender or shall we say at a precocious age through my father, at the age of approaching seven if we want to be specifically factual.
My introduction to racing was born out of necessity earlier than my Father had possibly envisaged from his perspective, taking the view that my "apprenticeship" was best served by reading the form of every runner for the race concerned to him, reading the very small font print of the Sporting Life broadsheet papers that were available at the time for purchase in your local newsagent.

So yes, the pre-days before the internet was in existence, and my fast-track progression brought forward at a time when his eyesight started to deteriorate quite quickly, regrettably. To put it in mild context, it could be considered an understatement that I knew more about racing than I should have done at that age in relation to reading books by Roald Dhal of my generation and for one of such years.
Click here to read the full interview with Blueblood Racing and find out more about this tipster
Blueblood Racing Results
This service was launched recently after a successful proofing with the Tipsters Empire network, there have been a fair few winners from the tipster who offers up both each way and win only selections.
The prices have been in the range of 2/1 upwards to as high as 17/1, there have been winners as high as 10/1 too so there are not just favourites being tipped by this tipster which is promising.
A gradual growth of the betting bank is what any would-be punter would like to see and it's clearly visible on the graph above, as mentioned before the write-ups are of a high standard, below is an example of that for you to take a look at.
Example write up from Blueblood Racing
17:40 Kempton, Mr Poy – 2pt win @ 3.00 generally all look for the positives as to why we should back a selection at a respective price in relation to chance from one's perspective to attain the so-called merits of "Value" but we should also factor in the possible negatives when taking a calculated risk as to the relative chance of taking such a risk and this selection is very much a case in point.
The main negative I will draw upon is his is a tendency to start slowly (Possibly highlighting the opportunity to back at a bigger price in running if that's your form of modus operandi) as can be easily highlighted by going through his historical race profile to date. However, one notable observational aspect on his more recent starts that the delay in time reaction from the get-go from the gate has been getting relatively quicker as he continues to race and also providing a quick yet logical indication it has been worked on behind closed doors by connections, that said, I'd still expect a relatively slow start, as most racehorses are habitual in how they race in nature and need more time to harness newly adopted race tactic methods over time, which this one will have had less time to do so since he last ran. The selection first gave a relatively reasonable indication that he may be better than his current handicap mark of 75, as assigned for this race.
On his racecourse debut, he split two rivals when second over this distance, where they both subsequently proved to be 90 rated+ horses subsequently according to the official handicapper, yet raced on close if not equal race weight terms. He showed a fair amount of greenness on his second start, slowly away, yet kept to his task well enough once he got the hang of things when it was all too late, the winner subsequently and on his latest start went very close in a group race at Royal Ascot last year off 98 and is already rated above 100+ as a consequence. On only his third career start he was drawn out wide on a track where over that specific distance was never going to be favourable, especially with the short straight run-in, and again having started slowly finished to good effect, and although the winner hasn't run on this specific Poltyrack surface since, the second did give the form a boost by winning two races consecutively, albeit on turf, the last coming off a mark of 84 to imply the selections current mark of 75 is still theoretically workable given the distance he was beaten by in the end given their weight carrying runs.
The selection was surprisingly allowed to run on a soft ground turf surface on his 4th start, given that his overall pedigree on both sides of the family did imply he needed a decent surface to operate effectively. According to my historical and recorded price charts for the race, he was not only backed down from morning prices of around 6.50 generally, but further shortened to around 4.50 by early afternoon, and then further backed at close to the off of odds of 3.50, an indication that connections felt he has fairly well handicapped off a mark of 78, yet he races off 75 now. Clearly, a misjudgment that he would operate on a softish turf surface was misplaced and it was also surprising to see him run over 10 furlongs on his penultimate run again on slower ground, not in keeping with his breeding or for the slower surface. However, he did make amends on his final start to a degree, finishing well over CD, and failing to catch a horse who has won previously on synthetics and had subsequently gone very close over CD off an inflated mark in better company on his last start.
William Buick has been booked on this occasion, operating at a 25%win strike rate for the stable in handicap races for 4yo+ contested races on synthetics and I was fairly satisfied by the time recorded on the last occasion over CD, a time that was quicker than the following race by 1.62 seconds or alternatively calculated as around 8 lengths quicker for the distance, although I'd take that with a pinch of salt given how those respective races were run it was also quicker by 0.66sec then the proceeding race over CD and taking into the weight difference plus age for weight allowance into account, that the various weight terms and where that race was more truly run (in particular from 3 furlongs out, on split time analyses) would indicate from the various permutations used, that this would imply the selection has run above his current mark, hence is on a favourable rating, IF running to the kind of form shown last time out over CD…
As you can see he really goes into detail on how and why he has come to his conclusion on each and every selection, a lot of time and effort goes into his selections and that can only be good for profitability long term.
Your Reviews Of Blueblood
Have you used the Blueblood Racing tipster service from Tipsters Empire before? Please create your own review for this service and leave star ratings based on your findings when being a member of this service. This enables other readers to make an informed decision on joining the tipster in question.
Thanks for reading this Blueblood racing review feel free to share it on your social media with friends and family.