So What Is Dobbing In Horse Racing? well, dobbing is a popular horse racing trading strategy, this relies on a horse price shortening markedly in running in order to secure a profit.
DOB is short for double or bust basically and as it suggests it is a risky strategy but done right it can pay dividends.
Being high risk you may want to look at safe horse racing betting strategies like greening up or scalping.
Horses have different styles of racing and if you get to know your horses it will become far easier to trade a horse's run style rather than if it will win the race or not.
For example, a front-running horse is likely to take the lead and see its odds shorten the longer it leads and this is where you can get your profits.
How The Dobbing Strategy Works
Put simply let's say we find a horse trading at 3.0 pre-race and we back it with a £20 stake this horse would need to trade downwards in running to a price of 1.5 where we would place a lay bet of £40 in order to make a profit of £20 whatever happens.
Basically for dobbing to work the horse's price needs to have come down by at least 50% in running when compared to its start price.
The best horses to use this strategy on are strong traveling front runners that tend to stay involved in the race right till the end.
But how do you find horses like this?
I personally use Timeform to find horses that have traded at a lower price in running than their price pre-race, there will be days where you will find some top-class opportunities, and it's better to go for the very best chance than to go for too many.
Ideally, you want a horse that has traded at a 50% lower price in running than its SP more than a few times, this is not always possible but as close to this as you get is giving you maximum chances of profit.
I personally would avoid jumps or hurdle races as we don't want a faller to ruin any chances of our profit, there are often fewer incidents in running with flat racing so this is where I look.
Below is an example of what you should be looking for

As you can see in one of the 3 races this horse ran in it started at 25/1 and came into 7 on the exchanges in running, now this horse has only run 3 times and only come into a shorter price once so this isn't good enough to try the strategy with but it is just to show you what to look for.
This horse Edelbar is much more what you should be looking for, it has traded at much lower prices in running on more than one occasion and often trades lower in running (see image below)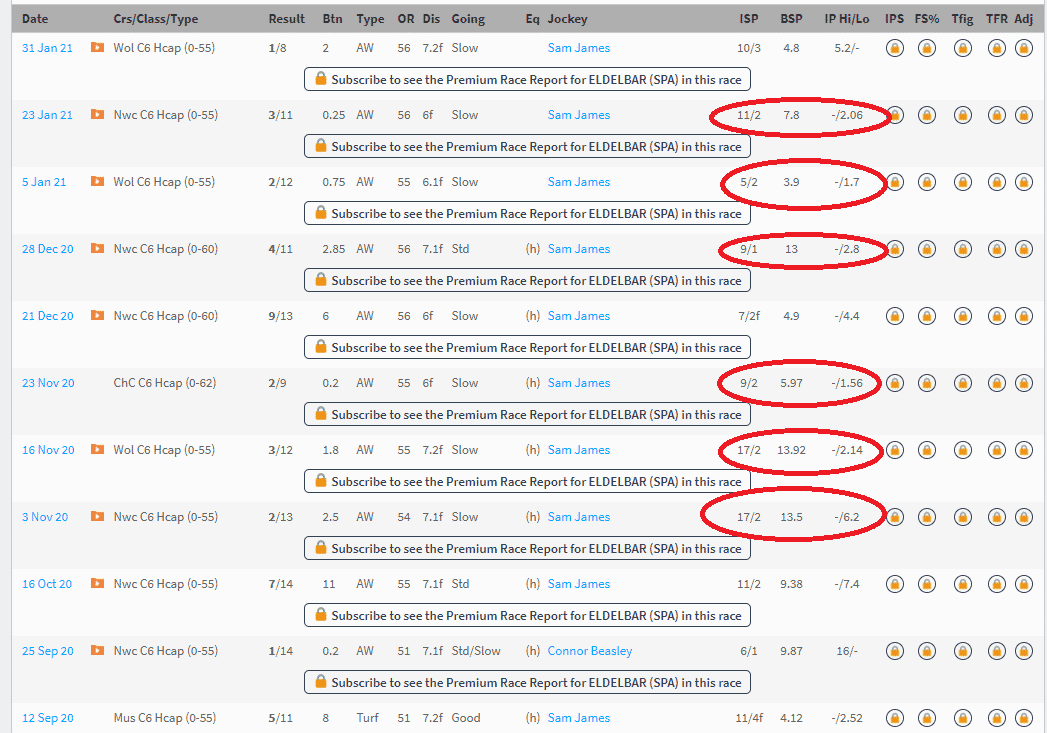 There have been at least 3 occasions there where you could have easily traded this horse in running using the dobbing method.
Often its price has reduced in running by more than 50% too which is a big plus for our chances.
Once you have found a suitable selection you place your pre-race bet and then you can either set the lay bet for in running at half the odds you backed it at or you can wait till the race goes off and do it in running manually (I don't recommend that especially if its a sprint race).
Then if all goes to plan you should make your £20 profit, you can obviously change your stakes to lower f you wish but the main aim is to succeed more than you fail in order to secure a long term profit.
Something you can also do is add suitable horses to your horse trackers (Attheraces and Timeform offer this), you will then be notified when it next runs so you can prep your bets.
Summary – The main things to do to succeed at dobbing in horse racing
The main thing to remember when finding a horse to DOB is that you pick a selection that is a strong traveler, a front runner, or has a high confidence jockey booking.
You want a horse that is going to look attractive to people backing in running and if you do your own research pre-race you should have the maximum chances of doing this successfully.
I hope you found this dobbing in horse racing strategy useful if you did please show your support and share it on your social media.