Welcome to this StatisticSports Review page, lets have a good look at this sports betting tool that uses live score and statistic data to help improve your chances of picking the winner of a football match.
Visit StatisticSports here for more information
Service Name: StatisticSports
Service Type: Betting tool/ Prediction App
Where to join: 7 days free here
A useful tool for football lovers, especially those who love scouring the stats to find a winning acca bet for example.
StatisticSports Review- What Is It And What Does It Cost?
StatisticSports is a useful betting tool for football fans everywhere from the avid punter to the pro gambler.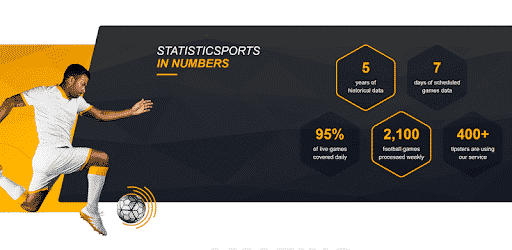 It gives you all the info you need to know about the home and the away side, some of this data you just will not find elsewhere
Covers 5 years of historical data
7 days worth of scheduled games data
Over 95% of daily games covered
Highlights betting opportunities
App that can notify you of games and data too
I don't know about you but I don't just pick a winner of a game based on the bookmakers odds, but I like to get all the info possible such as, past meetings, current form, team news and more.
StatisticSports gives you all this and more and shows it in an easy and quick way to understand.
Very good strike rate at predicting games too though I would'nt base your decision on the predictions, but use the data given to influence your pickings.
I highly recommend you give this a try, it costs just £15 per month for the lite version and you can get a 7-day free trial of that too.
Should this do what you want and more like I think it will there are higher options available such as the Platinum package which coems with far more tools and data.
Using AI may not be everyone's cup of tea but it is the future and it could well pay off for you.
I am told over 12,000 football tipsters are using this data, so if you are using a tipster maybe they are using this? Is this cheaper?
Visit StatisticSports here for more information
Your Views On StatisticSports?
Have you used the StatisticSports football stats and info tool before? Or are you a current member of this service? If so please add your own reviews below for others to see (scroll to the bottom of the page for the review form).
Statistic Sports Review
Value For Money

Profitability

Potential
Comments Rating
( reviews)
Summary
Statistic Sports gives football punters a step up with their betting game, giving them access to stats unavailable elsewhere and helping them to make an informed choice on what to bet on and when.
Pros
A very useful tool for football betting
Tons of stats
Updated regularly