Welcome to my Russell Blair Racing Review page. Russell Blair Racing is a horse racing tipster service hosted on the Sports Betting Stars tipster platform. Which means all tips and stats are verified independently from the tipster by the Sports Betting Stars platform.
Service Name: Russell Blair Racing
Tipping Style: Above Average (4 to 5 selections per day)
Service Price: 14 day free trial for each option is given. 1 Month is £39 or 3 Months is £99. Yearly is £359
Platform: Sports Betting Stars
Profitable: Yes
Service Headline: "Russell Blair Racing has been at the top of the tipster game for a number of years now. Russell aims to beat the bookies each and every month with a barrage of big priced winners and boasts an impressive return on investment of over 30%."
Where To Join: https://sportsbettingstars.com/tipsters/russell-blair
Russell Blair Racing Review
Russell Blair Racing has been around since late 2015 when he burst into the Horse Racing tipster world delivering over £2500 profit in his first few months of tipping.
That figure now stands at a total profit since 2015 (to £10 stakes) over £16791.10
You can expect to receive around 4 or 5 selections per day from this service and all selections are given in a timely manner enabling users to get the best value.
Averaging over £340 a month profit to £10 stakes Russell Blair is well worth following and is easily approved as a profitable horse racing tipster service for your betting portfolios.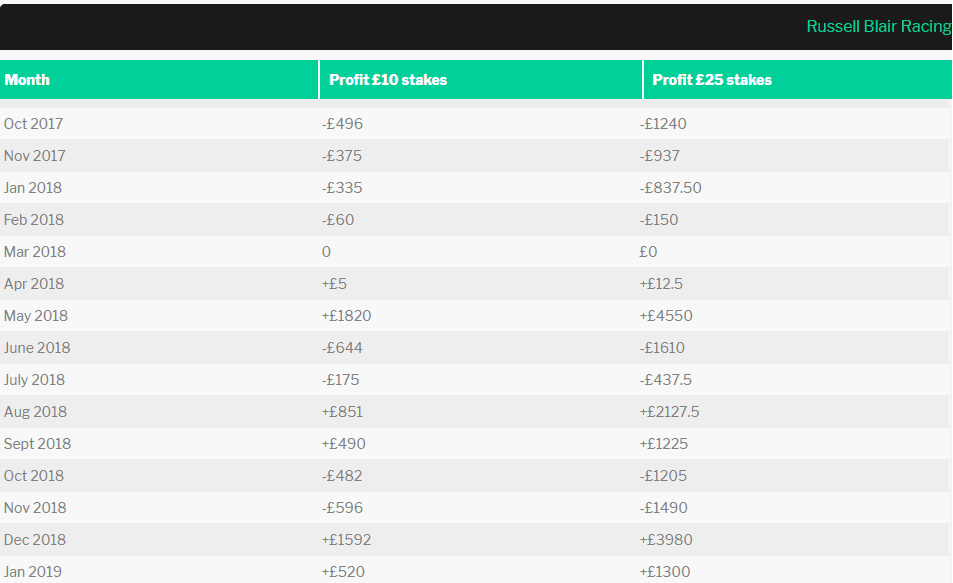 Above you can see Russell does have losing months but the winning ones far outweigh the losing ones which locks in long term profits.
With an average number of selections per month at 150 this is not the hardest tipster service to follow. Everything is backed up by a 14 day money back trial so if your not happy you can get your money back on any membership option you have chosen.
Thanks for reading my Russel Blair review, now leave your own review below.
Your Russell Blair Racing Review
Have you used The Russell Blair Racing tipster service before? Please create your own review and leave star ratings based upon your findings while you were a member of this service. This enables other readers to make an informed decision on joining the tipster in question.
Want to find the very best and most successful tipsters that can deliver you the most long term profits? Visit the Most profitable tipsters section of the site.
Russel Blair Racing Review
Value For Money

Profitability

Potential
Comments Rating
( reviews)
Summary
With this horse tipster, it seems the good months outweigh the bad and overall it looks very profitable, no wonder its already one of the most popular services for horse racing tips.
Pros
Well established horse racing tipster
Consistent
Profitable
Cons
Number of selections may be too much for some with lower bankrolls