Welcome to my Intelligent Betting review, this is another service from Keith Eckstein (creator of Focus Ratings) focusing around horse racing there are daily selections mailed out to subscribers, and it's free to join.
This is by far one of the best free memberships you will ever take especially if you love to bet on the horses.
There are restrictions on the free membership but if you choose to be a member you will get the following
Paid subscribers will receive a daily email containing links to the following PDFs…
Really Simple Ratings (top four rated horses)
Really Simple Ratings (all horses)
Intelligent Betting System Selections
And the following Daily Reports…
Unique Jockey & Trainer Raiders
More Daily Reports will be added as they are requested.
Membership fee is either £10+VAT per month, £25+VAT per quarter, or £85+VAT per year, the last option being the best value for money.
I ran a live trial of the Intelligent Betting service and was quite struck by how well it did.
The betting bank is advised at £200 per month and if the bank goes that's it for the month. Stakes are advised to be £10 on each selection each day and there are often between 7 and 11 tips advised per day.
This betting bank seemed far too small to me at first but with the good strike rate of winners, we were quickly increasing our betting bank to the point where we could have a few days of all losers and still have a betting bank left.
The amount of detail much like Focus Ratings is very useful and there are some very useful daily reports which can certainly increase your chances of picking winners, even if you don't follow their daily selections.
What You Get For Free
You will have access to the following with your free account, Really Simple Ratings – Really Simple Ratings are available from about 7:30 am every day.
Click here to join Intelligent Betting for FREE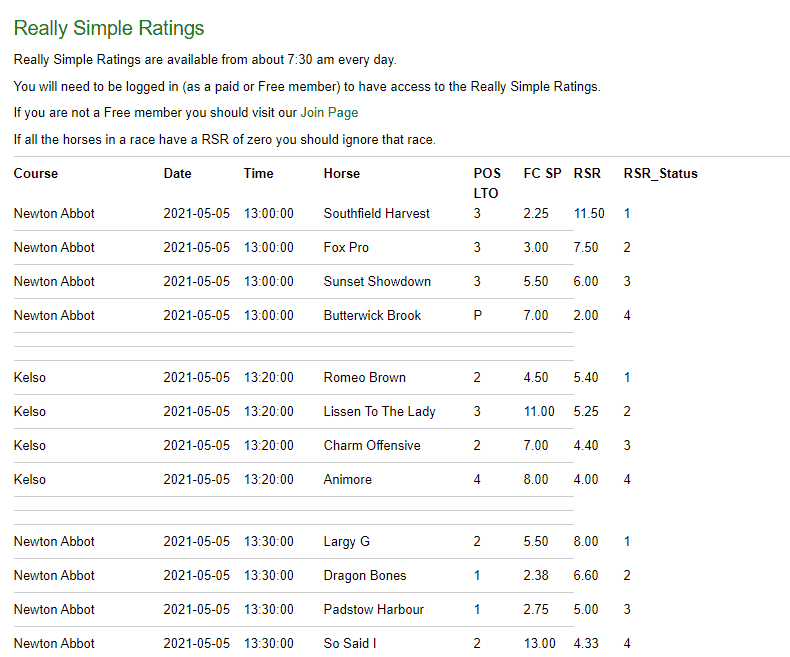 You will need to be logged in (as a paid or Free member) to have access to the Really Simple Ratings.
System Builder Query Definition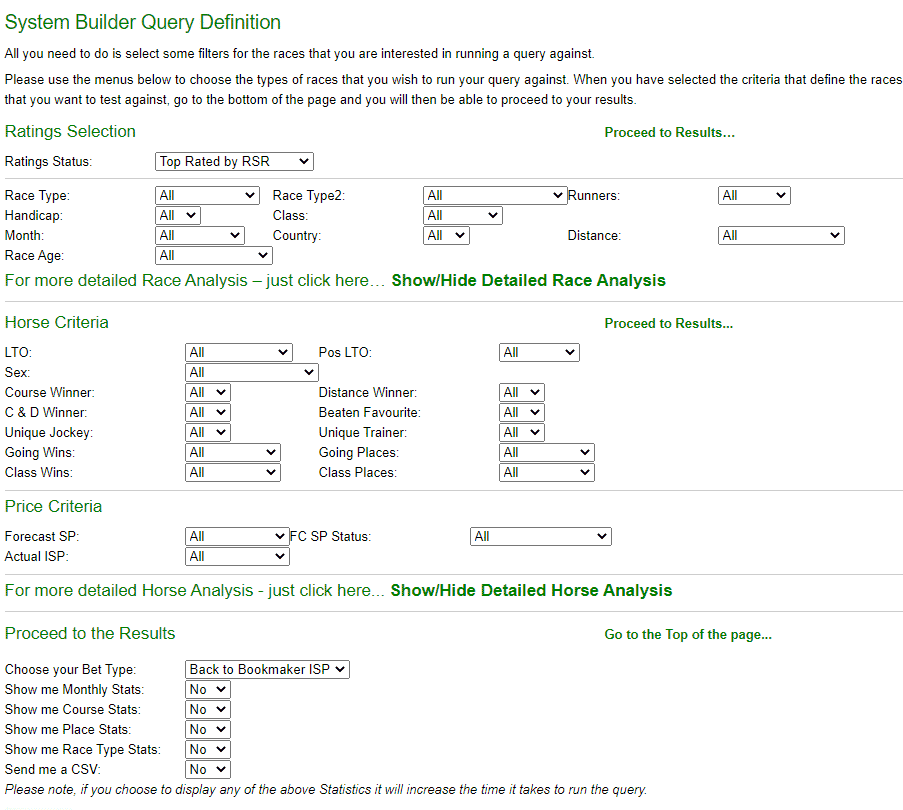 All you need to do is select some filters for the races that you are interested in running a query against.
Please use the menus in the System Builder to choose the types of races that you wish to run your query against. When you have selected the criteria that define the races that you want to test against, go to the bottom of the page and you will then be able to proceed to your results.
Access to the System Builder is free and potentially very useful for making your own system for betting.
Course Distance And Going Wins
You will also have access to the Course, Distance and Going wins section which shows suitable horses running that day that have previously won at the racecourse that they are running at today, over the same distance and going.
Last Mark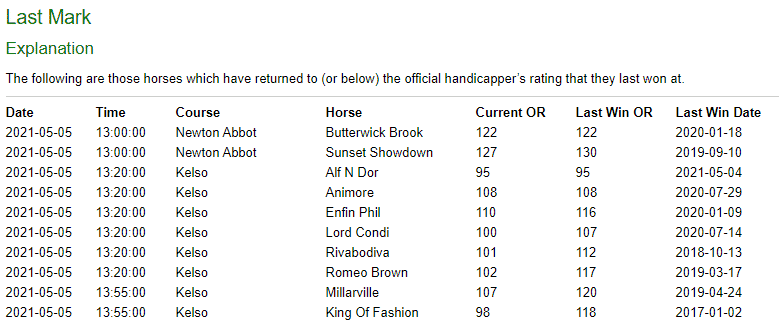 This is also free to use and shows horses that have returned to (or below) the official handicapper's rating that they last won at.
Horse Going Form
This is another free tool that shows every horse's form on the going for the day another easy-to-use and useful tool for any punter and can save you a lot of time.
Easy Dutch Free Dutch Betting Calculator
A highly useful and again free tool for those of you looking to Dutch selections, this calculator does all the working out for you.
Roy's One For Today
A daily informed free selection advised by the co-founder and as you can see by the below image, they do quite well with these.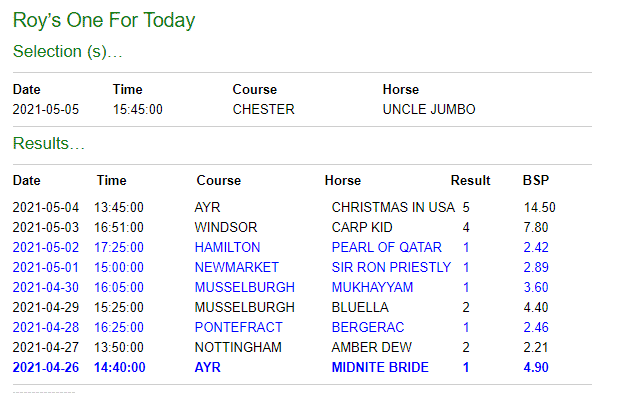 There are many free things on offer from Intelligent Betting, the only things you will not get for free and are possibly the most valuable are as follows.
Click here to join Intelligent Betting for FREE
Premium Intelligent Betting Members
You will get the daily Intelligent Betting selections as well as a ton of useful reports emailed to you each and every day to sue as you please. There are stacks of data and you can quite easily come up with your own formula for betting should you so wish.
For just £10 a month it really is a steal and if you take the yearly option you will be getting all this for less than £8 per month.
After the live trial being such a success I definitely recommend anyone gives Intelligent betting and Focus Ratings a try.
Live Trial Results
I trialled Intelligent Betting with subscribers of the newsletter (free to join) and the results can be seen below.
Selections: 71
Winners: 31
Lost: 40
Void(non runner):
Staked: £710
Returned: £1106.58
Profit/Loss: +£396.58
As you can see highly impressive and I constantly received emails about this service and how good it is.
Have you used this free service or the paid version? Let us know how you found the service overall by adding your own Intelligent Betting review below.
Your Intelligent Betting Review
It is highly useful to my readers for you to add your own findings of this service and how useful or not you may have found it, simply fill in the form below and submit.
Intelligent Betting Review
Value For Money

Profitability

Potenital
Pros
Free to join
More detailed paid options available
Good strike rate
Cons
It's free so hard to find one but if you want full data there is a membership fee
Comments Rating
( reviews)