Betmarkets Review
Value For Money

Profitability

Potenital
Summary
Bet markets is a leading platform for punters who are looking to copy the bets of a professional gambler in order to make profits long term
Pros
Proven profitable
The new social betting platform
Untapped potential
Hello and welcome to my Betmarkets review, I thought it was time to take a closer look at this service which allows you to copy the bets of pro punters and in turn make a long term profit and return on your invesment.
Its like copy trader but for sports betting. Worth noting the user reviews further down the page for this one, which has forced me into marking the service down drastically.
A social betting paltform with a difference, but how does it work? lets take a look.
How Does Betmarkets Work?
Take a look at the video below which explains how you can use Betmarkets to your advantage when it comes to sport betting.
So if you want to get started you only have to complete these 3 basic steps.
START
Fund the account through a secure payment method, such as a bank transfer or a credit or debit card.
Click here to get started on Betmarkets
DECIDE
Decide the professional bettors you want to copy and how much to allocate to each.
MONITOR
Automatically have all their bets placed on your account at the best prices available.
You benefit from knowledgeable punters who have proven track records in betting on sport the only fee you have to pay is 20% of any profits you made by following their betting and this is paid quarterly.
You allocate how much money you want to use to follow each pro punters betting, and you can follow the progress in your very own account dashboard.
You only pay when you see a profit from your bettor.
There are currently 23 bettors available for you to copy bets from and they currently achieve an average 6.3% return on your money.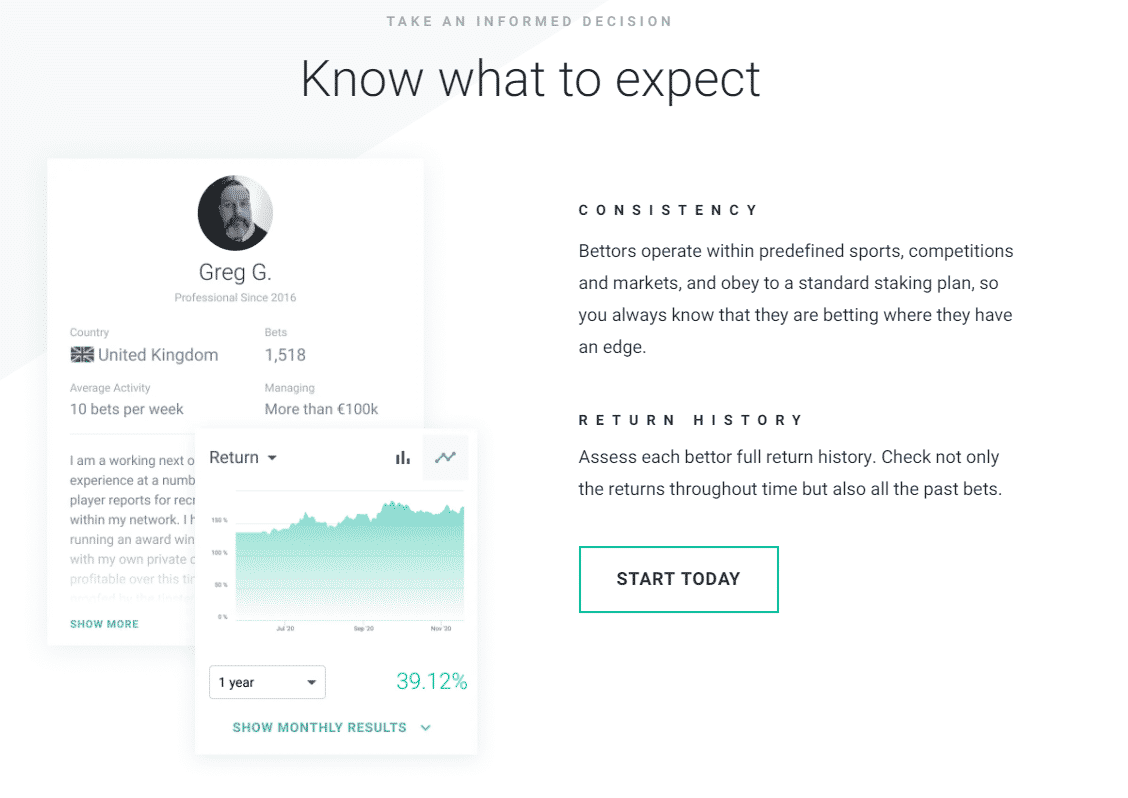 Every bettor will have been proofed bet-by-bet to obtain a track record with, ideally, more than +500 bets and longer than one full season of the sport(s) where they specialise in.
What Do Betmarkets Say About Their Social Betting Platform?
On Bettingmarkets website this is how they describe their service.
"Our platform is entirely automated to ensure that we have access to all the best prices and the maximum liquidity, bringing this benefit to all users in a split-second. Markets must be efficient and balanced in order to reduce the risk of being exposed to them.
We operate under an oath of service towards all our users, putting them as our first-priority. We also prevent problem gambling by putting professionals in charge of the final decision and by ensuring that all behaviour is pre-defined, preventing users from increasing the number of bets and from chasing losses.
The triple-bottom-line – profit, people, and the planet – is ever-present in the way we conduct business. Besides bringing a financial component to sports betting, we also aim to foster youth and women sports and other social projects and are committed to becoming carbon-neutral as a company."
Betmarkets Summary
This is a relatively new social betting platform but it looks to be leading the way and it's very much worth waiting to see what others say about it before you jump in.
There are already well over 13,000 copiers on the platform copying the 16 professional punters that have a proven track record on their website.
So having said all of that is Betmarkets worth joining? Well, of course, it is worth waiting a bit it makes profiting from sports bettors easy and more importantly it's got a proven track record already but there have been some bad comments early doors.